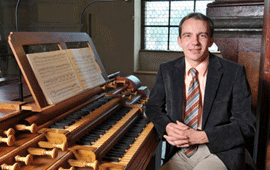 Interview with the Organist Pavel Kohout
Thursday, 18 October 2012 , ora 13.35

The Radio Chamber Orchestra's special guest at the 2012-2013 season opening concert was the Czech organist Pavel Kohout. He is the winner of many awards in the most important international competitions. Pavel Kohout has also a rich and constant artistic presence in recitals and concerts across the entire Europe, but also in Russia, Hong Kong, Singapore, Israel, Syria, Japan, Australia, New Zeeland, and USA, approaching a diverse repertoire which includes creations from the Baroque Ages until the creations of contemporary composers.
Near the concert day, he was kind enough to give us a short interview:
Pavel Kohout, why the organ?
The organ is special. I've also studied the piano, but I consider this instrument to be more complex. It is played in churches, but also in concert halls. We are talking about a powerful sonority. Although it is one instrument, it can substitute a whole orchestra.
What place does organ music hold in the current musical climate?
It depends from what point of view we are talking: if we look at the organ as an instrument in churches, or as a soloist instrument in concert halls. There are countries where only one of the two has precedence, but at European level, I can say that there is a balance.
How would you describe the organ in the Mihail Jora Hall; the biggest and most recent renovated organ in the country?
I've also played the organ in The Black Church in Brașov a few years ago. I've also played in Cluj and Timișoara. I like the sound of this instrument. It is an organ of large proportions, and newly renovated, as you have mentioned. The dialogue with the Chamber Orchestra is achieved very well.
Why did you choose the Concerto No. 2 in Do major for the organ and chamber orchestra by Franz Brixi?
There are a lot of very good concerts for organ. Sadly, they are not played often enough. Comparing Brixi's concert with Bach's or Handel's concerts, it lacks none of the qualities of the compositions mentioned before. I could say that, in composition, it resembles with Mozart's concerts. It is a shame that a composer such as Brixi is not well known. He is played very often both in the CzechRepublic and Germany. I think there should be a better promotion for this type of music work.
How would you describe your collaboration with the conductor Dejan Savic and with the Radio Chamber Orchestra?
The conductor is very pleased with the balance between the organ and orchestra. I think it is a very good collaboration.
Lucian Haralambie
Translated by Translated by: Andrei Popescu
MTTLC, Bucharest University