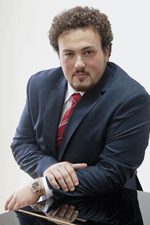 Highlights of the Solo Acts Performed in 2011-2012
Monday, 1 October 2012 , ora 8.54

Romanian Singers Abroad - Tenor Stefan Pop
'I think I came into this world to bring joy to people. This is what I think about, every time I go on stage.' - this is the belief of Stefan Pop, the tenor who made his debut on the stage of The State Hungarian Opera in Cluj-Napoca, in a show which included Il Matrimonio Segreto by Domenico Cimarosa. This was followed by the debut at the Opera House in Timisoara, in La Traviata - this is also the opera in which he debuted at the Rome Opera House, in 2009. At the time, Stefan Pop interpreted the role of Alfredo, under the direction of Franco Zeffirelli.
Since 2010, when he won the Grand Prize at the Operalia, The World Opera Competition, important theatres have opened their doors to the tenor Stefan Pop. Some of these are: The Vienna State Opera, The Israeli Opera, The Bastille Opera and the Hamburg State Opera. In November (on the 8th, 11th and 15th), he will be in Milan, on the stage of La Scala, where he will interpret the role of the Duke of Mantua in Giuseppe Verdi's Rigoletto.
In an interview he gave us in August, Stefan Pop spoke about his appearances in the past season and the future ones.
Highlights of the Solo Acts Performed in 2011-2012

Mr. Stefan Pop, you are now in the country for a short period of time, after performing beautifully on the international opera stages. What can you tell us about your performances in the season 2011-2012?
After this short vacation, I will go to Convent Garden for the long-expected concert with Placido Domingo on 25th August, a concert held in celebration of the fifteenth anniversary of the Operalia Competition.

With Rolando Villazon, Erwin Schrott and Placindo Domingo, you will be in a very pleasant company.
Yes, these are very important names. I also did a show with Rolando Villazon and I can tell you that he is an exceptional man, intelligent, and we get along really well. I am happy to see him and the others again, and to finally meet the maestro Pappano - this will be our first collaboration, and I hope it will be followed by others.
Regarding the last season, I can tell you that I performed for the second time with our amazing soprano Angela Gheorghiu. Two years ago, we sang in Seoul and Shanghai, and this year I was invited to Oman. We performed in a beautiful theatre, recently built, which I believe will become one of the most important theatres in the world. I enjoyed singing with Angela Gheorghiu very much. I can also tell you that, in December 2011, I made my debut at the Seoul Opera, as the Duke of Mantua in Rigoletto by Giuseppe Verdi. My partner was the Italian soprano Laura Giordano, performing the role of Gilda. I am gladly going back to Seoul, because that is the place where I won the Operalia and, as I have already said, where I sang with Angela Gheorghiu two years ago. I feel honoured that over there, people consider me to be 'Luciano Pavarotti'. But I am just Stefan Pop, although I hope to be able to get as far as the great Italian tenor did.
During the last season I also took part in a new production of the opera Otello by Giuseppe Verdi, at the Zurich Opera, where I played the role of Casio, and I had the pleasure to know the maestro Daniele Gatti, with whom I will work again. In June, I also made my debut at Strasbourg, in Der Rosenkavalier by Richard Strauss, and I can tell you that, when I sing the tenor aria of this opera, I am nervous, because it requires the reaching of high notes, and you need a good warm-up before going on stage. I will resume this part in Zurich next year. I have also continued a project I started one year ago - a concert named Three Tenors in Bistrita. I sang with the tenors Daniel Ovidiu - he is, like me, from Bistrita - a soloist at the Opera in Düsseldorf, and the Cluj-born Cristian Mogoșan. This concert has made one of my dreams come true, a dream that one day I hope will become history.

After this mini-vacation, you will go, like you have said, to Convent Garden, in London. What will come after this halt in the British capital?
I will fly to Sanxay, a city next to Limoges, where there is an outdoor festival. I will take part in a new production of the opera La Traviata by Giuseppe Verdi. I look forward to play the part of Alfredo in four performances, this being the first time I will perform outdoors for 5000 opera spectators/viewers. Together with the person interpreting the part of Germont, the Italian baritone Fabio Maria Capitanucci - I will also sing in L'elisir d'amore by Donizetti, in September, this being a new production to re-open the Lausanne Opera House, after a renovation which lasted more than five years. I hope it will be a beautiful enactment, because it will also appear on DVD - the first in my career. Lausanne will be followed by my debut as The Duke of Mantua in Rigoletto, at La Scala, in Milan. In December I will also make my first appearance at Convent Garden, in London, in the role of Nemorino from L'elisir d'amore.

Going on, we could tell those who love the lyrical art that you have contracts until 2013.
I can say that I have contracts until 2015. In 2014, I will sing in Don Giovanni in Paris. Don Ottavio is my first part in an opera by Mozart. It will be a new production, of ten performances. I have made my debut in Paris this year, with Rigoletto, which was a performance for which I was called at the last minute. Due to its success, the production of Don Giovanni is starting to take shape.
The OperaliaExperience

Do these achievements come as a result of winning the Operalia Competion in Seoul?
Certainly. The Operalia Competion is an audition for the important theatres, because, as you know, the jury includes managers from Covent Garden, La Scala, the Metropolitan, and others… so it was an opportunity, because I didn't need to go to each and every theatre, for an audition.
Favorite Roles and Scenes

You have a rich repertoire of operas - from Mozart to Richard Strauss. What are the parts in which you feel most comfortable?
The part I interpreted most often is Alfredo from La Traviata - more than fifty performances, but I had dreamt and hoped to play the Duke of Mantua, because Rigoletto is the first opera in which I saw my idol, Luciano Pavarotti. I think that, for a tenor, every part is beautiful, and as long as you sing with love and dedication, you will certainly find yourself in what you do. Every opera is important to me; every phrase I sing has a meaning, and I think that the most beautiful and simple way to reach people's souls is through words and music.

What other roles do you intend to tackle in the future?
I wish to debut as Edgardo in Lucia di Lammermoor. I hope I will do this next year, at the Opera in Cluj.

When you find yourself in front of a new score, do you listen to other versions of interpretation? What do you use as a reference point?
I always listen to other versions of interpretation, but first and foremost, I take the score and I analyze the music, I read the text to understand the story and the plot very well after which I listen to the famous tenors, so as to learn what I have not mastered yet. Experience is very important.

You have sung on some very important stages. So far, where did you feel best?
Even though the period was very short - meaning I arrived there one day and the next day I sang Rigoletto, I think the Bastille Opera, in Paris, is the hall where every singer feels good, because the acoustics is extraordinary. Regarding the audience… I felt good everywhere.

On what other stages of lyrical theatres do you wish to perform?
Since I will make my debut at La Scala in Milan, and Covent Garden in London, the theatre stage where I hope to perform is the Metropolitan, in New York - I am already negociating with them for the part of Fenton in Falstaff… I hope that in the next two years I will be able to add the Met to my notebook.

From all the enactments you took part in, which one made you feel best? Do you like the classic enactments or the modern ones?
I prefer the classic enactments, because in my opinion, the modern ones change the plot written by the composer, and then, the audience has no more time to listen to the music, because they pay more attention to the direction. And, since you asked me which one is my favorite enactment, I can say that my debut in La Traviata, at the Opera in Rome, under the direction of Franco Zefirelli was a dream… like a movie taking place on stage.
Collaborations with Partners and Conductors

What do you appreciate the most in a stage partner?
The sincerity and total dedication to the stage, the artistic performance. In Hamburg I had the opportunity to work with Edita Gruberova, whom I had seen in that Rigoletto, with Pavarotti, the one I have already spoken to you about. I have never thought I will get to perform next to Gruberova… and yet I did, in La Traviata. After the show she paid me the biggest compliment so far. She told me: 'you are the best Alfredo I have ever sung with.'; and I did not convince her of this because I sang well, but I convinced her because I sang with a lot of sincerity…

You have collaborated with some important conductors. Which conductor has taught you the most?
Gelmetti, when I sang La Traviata in Rome. He had patience to show me another way of working, a different way to sing, compared to the one in Romania. I also had a beautiful collaboration with Daniele Gatti.

What hobbies does Stefan Pop have? How do you spend your free time?
If I have two days off, I go fishing.; that is where I can relax better, because it is just me and the nature, the way in which I grew up and also hope to get old… I also like to spend my time at my father's sheepfold, which is where I learned to love animals. This is why, when I find myself in a big city, I firstly visit the zoo and after that, the rest of the city, between rehearsals and shows.

A thought for the listeners of Radio Romania Music…
I wish them happiness, health and… confidence, and do not forget that I sing from all my heart to theirs…
Jeanine Costache
Translated by Valentina Banut
MTTLC, University of Bucharest