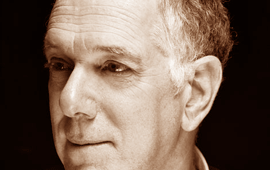 The Royal Concertgebouw Orchestra - an Interview with Joel Ethan Fried, the Head of the Artistic Administration Department
Tuesday, 23 October 2012 , ora 8.44

A city with less than 800,000 inhabitants is the centre of activity for a symphony ensemble that a prestigious jury of international critics created at the initiative of
Gramophone
(a London publication), ranked it in 2008 the best symphony orchestra in the world. Perhaps to a larger extent than other symphony groups, the Royal Concertgebouw Orchestra (literally, 'the Royal Concert Hall Orchestra') possesses several features - either external or internal - that turn it into a unique enterprise. How have we come, nowadays, to enjoy the interpretation and sonority of the Dutch orchestra?
The Royal Concertgebouw Orchestra was born because Johannes Brahms complained of the conditions of the interpretative art in Amsterdam - at that time, our city had no coherent, stable ensemble; a group of freelancers got together from time to time, whenever it was necessary. However, another Dutch city, Utrecht, had a proper orchestra. Brahms said once: 'when going to the Netherlands, if I want to feel good, to drink and eat well, I choose Amsterdam; but if I want to make serious, quality music, I go to Utrecht'. It was such an insult for the people of Amsterdam that they immediately decided to build a concert hall and to create an orchestra.

So, first there was the space, and only afterwards came the orchestra.
It's true. The hall was inaugurated in April 1888 with a concert performed by an orchestra made up of those freelancers, but, as people realized very soon that they needed their own ensemble, in November 1888 the foundations of the Concertgebouw Orchestra were laid.

The Orchestra enjoyed a very close relationship with Mahler, at least judging by the number of his works included in the concerts.
Indeed. Mahler came to us a few times to conduct his own music; he really appreciated our orchestra because it rendered his works often and professionally, whereas in Vienna, for example, he didn't enjoy the same respect. Mahler believed that our chief conductor at the time, Willem Mengelberg, had turned the musicians of Amsterdam into a real ensemble, had created an amazing orchestra. We are, therefore, one of only two symphony orchestras in the world, besides the New York Philharmonic, that has an authentic tradition in championing the music of Mahler and which goes back in time to the period when the composer himself was conducting us. But we frequently worked with Richard Strauss, even more often than with Mahler, and with other well-known composers, like Debussy or Stravinsky, who also conducted the Royal Concertgebouw Orchestra.

If such famous characters in the history of music seek their collaboration, the members of the Dutch orchestra must be really good. So, tell us, Joel Ethan Fried, what are their professional and human qualities?
There are many excellent orchestras, whose members have an exceptional level; in what concerns us, I think that there a number of details which make our orchestra special. First of all, the hall where we perform. Its acoustics are amazing for the audience, Concertgebouw being one of the best three or four concert halls in the world from this point of view. However, the situation is different for the instrumentalists on the stage, because they have difficulties in hearing one another very well. The result is that they play as if they were in a chamber orchestra, although they have 100 or 120 colleagues. The members of the Royal Concertgebouw Orchestra follow the same principles as a string quartet or a wind quintet: they listen to each other very carefully. They have a real culture, a tradition in working very closely with the colleagues on stage. Another aspect is the stylistic flexibility of our musicians: the Concertgebouw Orchestra is famous for the rendition of Mahler, Bruckner and Strauss, but our repertoire has a wide range, from Bach to the music of the 20th or even the 21st centuries, this requiring a great versatility.

Could such particular acoustics be easily copied, imitated?
Our concert hall has the same shape as Musikverein in Vienna or that of the Symphony Orchestra in Boston. It's what they call a shoebox shape, leading to excellent acoustic results. It would be difficult for a hall with a different shape, especially if its capacity is higher than 2,000 seats, to meet the acoustic conditions of Concertgebouw. What is interesting is that when our musicians are on tour, they perform in the same manner, have the same ideal in terms of sound, maintain the same concept of sound propagation and try to recreate it wherever they are, irrespective of the hall's configuration.

So, what exactly makes the sonority of the Royal Concertgebouw Orchestra so special? How would you define it, Joel Ethan Fried?
I think the strings have a very warm timbre, maybe not as brilliant as other orchestras', but really warm; then, there are the woodwinds, with very particular timbres, but which go very well together, just like the brass winds: strong when necessary, but without pushing the note.

Another distinct feature of the Royal Concertgebouw Orchestra is that along its existence it has only had six chief conductors, which, I imagine, provides a great unity to the ensemble and, also, to the musicians' performance. Joel Ethan Fried, how did this factor contribute to the orchestra's character?
For an exact answer we have to go behind the scenes. When we have a guest conductor, he or she has at the most four days to work with the orchestra, so they focus on rehearsing the repertoire for that week only. But if you want to build something to last, in terms of a particular style or repertoire, of a specific sound, this can only be accomplished by a chief conductor or a musical director. We were really fortunate to have had only six musical directors over a period of 124 years, because each one of them had indeed the opportunity to work with the orchestra, to shape and train it so as to become a very good ensemble.

Starting with 2006, one of the two concertmasters of the Orchestra is Liviu Prunaru. During a visit to Romania, he was saying that he was very proud to have been accepted for this position. How do you choose the right person for such a job?
It's rather complicated. Most of the members of the Orchestra audition and then there is a trial period. When we want to find a concertmaster, things are even more difficult, as this person has to meet multiple criteria, that is being at the same time a good leader, solist, instrumentalist and assistant principal. We invited a lot of violonists from all over the world to that contest and Liviu was the best.

You collaborate not only with famous conductors, but also with young people at the beginning of their careers, to whom you provide the opportunity to work with an excellent orchestra. What is your interest in such a co-operation, Joel Ethan Fried?
It's a win-win situation. It's not only about giving these young people the chance to conduct an orchestra such as ours, but also about our wish to build a relationship with the conductors who, in twenty years' time, will be among the best. If we meet a conductor who is very talented and has something unique, even if he still has things to learn, we want, of course, to collaborate. It's true we encourage young talents; however, I don't think this is the main reason for collaborating. More important is our intention to establish a connection with the next generations.

The Orchestra is also closely connected to the new music generation: it often interprets contemporary works. What is their role within the ensemble's repertoire?
I think that the season's programming is based on the principle of balance: you don't want to interpret only Mahler and, at the same time, you don't want exclusively the music of our century. At home, on tour or by means of our own label, RCO Live, we have to offer the audience a rich 'menu', with different types of music. But I also believe that any artistic institution and especially an orchestra has a duty, towards its profession and the artistic phenomenon, to perform new works. We championed Mahler and Strauss when they were the new composers, with scores that had just left the printing press and when, because of the novelty, their music couldn't reach everyone. We have always promoted new creations and I think it's important for any orchestra to do that. We try to choose the best composers who write the best works for symphony orchestras, but placing an order somehow resembles the lottery: not all the new creations will pass the test of time. And yet, as mentioned before, it comes with the territory: more than a museum full of dead composers' works, we have to be a laboratory where new music is created and where, sometimes, new manners to present music are conceived.
Maria Monica Bojin
Translated by Mihaela Olinescu
MTTLC, Bucharest University