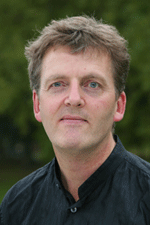 'Tiberius Week' at Târgu-Mureș
Thursday, 15 November 2012 , ora 8.57

Between 11
th
and 18
th
November, 2012, the "Tiberius Week" International Chamber Music Festival is going to be held in Târgu Mureș. Invited at this 7
th
edition is the British violinist Richard Ireland, member of the Chilingirian Quartet up until 2010. He comes from a family with an old music tradition: his father was a violist in the Allegri Quartet, and his brother was a violist in the Lindsay Quartet. I've asked Richard Ireland to tell us about his love for chamber music, about some of the difficulties it poses and about the advantages it offers.
"I grew up with this music - my father would always have a rehearsal at our place, and being young of age, my role was to bring the tray with the tea cups in the room where they were rehearsing. I found it rather normal to be able to listen to music all the time, and I thought that this is the usual way of living one's life."

What qualities does an artist need to possess to play chamber music at a good level?
I think that this type of music is a pure one: every voice, individually, is very important and it must be used to sing with very clearly. There is also the need for the four musicians to feel each other's vibe, so that everything they do fits together, so they have a correspondent, and thus bring the music pieces back to life as well as possible. So, in chamber music, everything is very exposed and pure.

You have been a chamber music professor for a very long time. In which way does it help a young instrumentalist to grow?
I consider it to be a very important part of the development process; in my opinion, chamber music should be given a little more attention in the conservatoire curriculum, because chamber music represents the youth's chance to find a voice of their own, and their own way of interpretation. It is also possible to build a singing style, sensitive to that of their colleagues. If they learn only soloist music or orchestra, they are deprived of the opportunity to learn a very important aspect: to listen to themselves, to pay attention to how their voices sound, and to listen to those with whom they sing.

I would have asked you which is the most significant thing that you want your students to learn from you, but I think you've already answered the question.
I've just had a lecture, here in Târgu-Mureș, where we studied Beethoven's piano trio op. 1 No.3, and throughout the whole hour we did nothing but try to find that detail from every part of the work which makes the music come alive, that detail loaded with expressivity. This trio resembles an opera in some way, because each voice - the left hand of the piano, or the cello, is a character, and he helped to create a story.

Can this search of the significant detail apply to every chamber piece?
Yes, and it also applies to concerts, because being a soloist doesn't mean just being an instrument accompanied by an orchestra. A concert is a chamber music in the sense that everything which the soloist plays must integrate with the music played by the ensemble. With large orchestras, the instrumentalists are the real chamber music performers, because they listen carefully to what their colleagues are doing - and when this happens, the orchestra is a whole which sounds wonderful.

So you are lecturing in Târgu-Mureș, invited by the city's Philharmonic at the "Tiberius Week" festival. What should we expect from your recital?
I am going to play with some of my fellow professors here - it's a reunion of excellent musicians: Jerry Horner, the violist from the Fine Arts Quartet, Sandor Devic, violinist from the Bartok Quartet who also lectures at the Budapest Music Academy, Lencsés Lajos, principal oboist at the Symphonic Orchestra of the Stuttgart Radio Broadcast who he is also a professor in Budapest, or Stefan Metz. He is actually the reason why I came to Târgu Mureș - his family is from this city; his grandfather was a violinist in a quartet here. Stefan was a member of the Orlando Quartet; he founded the Dutch Festival which bears the same name as the academy which deals with helping young professional string quartets. The clarinettist James Campbell is also playing in Târgu Mureș; he collaborated with brilliant chamber orchestras - with the Allegri Quartet, where my father was a member, with the Fine Arts or Guarneri Quartets. And the members of the Tiberius Quartet from Târgu Mureș, with their strength, are the ones who brought together artists from around the world - such a reunion seldom happens and it is very special.
Maria Monica Bojin
Translated by Andrei Popescu and Elena Daniela Radu
MTTLC, Bucharest University