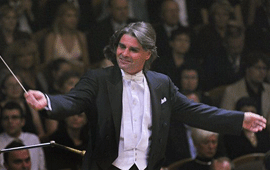 Interview with Conductor Ion Marin
Wednesday, 21 November 2012 , ora 8.10

The conductor Ion Marin had the courtesy of answering a few questions after Tuesday's afternoon rehearsal with the Switzerland Italian Orchestra, whose programme is broadcast Thursday, at 21:30 by Radio Romania Music. We have chosen a few questions from the interview set for the concert break:

We know that for Ion Marin' family the town Lugano means ...home!
Yes, for...21 years now!

But what does the Lugano stage mean for the activity of the conductor Ion Marin ?
It's an orchestra that I have directed at least once a year for a long time. Indeed, it's a real pleasure to work at 'home'. I know all of them, most of them since they were students and I like to hold a concert at 'home' once and a while, where I have friends and where I feel surrounded by love. Over the several years, there has been a selection of musical pieces from the repertoire, of programmes that I have been trying to play with the Lugano orchestra and now it's the turn of Slav music.

Last month, the name of the conductor Ion Marin was on the list of the Echo Klassic Prize awarded in Berlin for a…Best seller: the 'Legacy' CD with David Garrett. What does this prize mean?
Almost half a million sold CD's, one of the best-selling classical albums of all times: the Violin Concerto by Beethoven and the Seven Miniatures by Fritz Kreisler with Royal Philharmonic Orchestra and David Garrett, with whom I have collaborated ever since he was a wonder 13 years old child. David started when he was very young and recorded many early albums as a soloist after which he turned to symphonic rock (which is somehow his idea) and now he is performing an unique phenomenon which we could call 'double cross-over': he went from playing classical music to playing symphonic rock and now, he is performing the second cross-over, from playing symphonic rock to playing classical music. It's a CD that I recorded with joy and special fervour in London in the summer of 2011. From the statistics we have, those who have bought this CD are fans of David' symphonic rock, which shows that this audience has made a turn towards classical music, by cutting out parts of Beethoven's concert and posting them on Youtube, for example!

You've launched some projects for teenagers in Romania...
The projects Cantus Mundi and Symphonia Mundi are intended for the raise of children from ill-favoured areas, generally from all the areas because the direct form of comunication is through music, by showing its unbelievable power of crossing over the social conditions, the geographic distance, and over various disadvantages with which children from Romania and from other parts of the world start their lives. It's a way of helping children to come out ofisolation from the area which causes their suffering due to the lack of money and of enabling them to communicate. Once this communication has been initiated - and through music, it is being done otherwise than...it's being donethrough games or even speaking (especially because children don't get to meet very often) - I think that these meetings and musical education will lead to an auspicious social incorporation for their ulterior development.

Is Ion Marin an itinerant conductor?
...it depends on how you look at things. There is a number of 10-12 orchestras that I visit every year or every two years and I can happily say - after such a long time - that through music I kind of feel like being at home all over the world.
Anca Ioana Andriescu
Translated by Andreea Mesescu and Elena Daniela Radu
MTTLC, Bucharest University