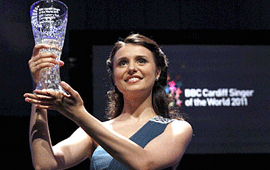 Romanian Singers Abroad - the Soprano Valentina Naforniță
Tuesday, 13 November 2012 , ora 10.17

She is the second Romanian artist, after the tenor Marius Brenciu, to have won the Big Trophy at the 'Cardiff Singer of the World' - 2011 edition, and was immediately labeled by the critics as 'one of the world's best voices'. Born on the Moldavian realms, she has a voice with a rich timbre, ennobled by a good singing technique, being a singer gifted with musical sensibility and instinct. 'The trophy urges me, in the nicest possible way, to improve myself and follow this path' - the soprano Valentina Naforniță declared. She is already a soloist of the Vienna State Opera and has got an interesting career taking shape in the international lyrical context. The Italian critics have also commented favourably on her recent debut when she interpreted Gilda in Giuseppe Verdi's opera performance of Rigoletto at the Teatro alla Scala in Milan, on 8th November, 2012. The soprano Valentina Naforniță told us about her projects as follows:

Thank you for the kindness you showed when I asked you to grant me an interview, in the middle of such a beautiful, professionally blooming, but also very busy period. It is today (4th October, 2012) that you are going to sing in a performance, isn't it? What opera production is it?
It's the show based on Beethoven's work, Fidelio, in which I will sing the part of Marcellina. This is already the second performance, the premiere was held on 1st October and the hardest part has been already done; now we are trying to keep handling it nicely.

What can you tell us about this production of Fidelio - is it a classical or a modern one?
It is a classical production, since it has been performed for many years now here in Vienna, as well as L'elisir d'amore and other opera performances that hold the top spot, because they meet the public's taste. Fidelio is a pretty comfortable production for an artist.

What can you tell us about the partners?
What I can say about the partners is... actually, about the other characters, because I basically don't have a certain partner in this play...that I'm more like airy, I long for Fidelio, but, in fact, it is somebody else who wants me. They have got truly special voices. They are both, part of the ensemble and also special guests from various countries, who sing the main characters: Fidelio, Leonore and Florestan.

What will follow after this performance of Fidelio?
We're preparing some other performances and premieres, which shall take place here, at the Vienna Opera House. I'm talking about Ariadne auf Naxos - which production is being replaced, since there was another former performance that had been running. I don't know whether the style will be classical or modern, I only know it will be performed during December. The premiere of La Cenerentola is coming up - in January, 2013, and I will perform in both productions. I'm also preparing the character Musette in La Boheme for the month of December. It's a busy period, but extremely beautiful and I am very happy that I get to do what I want.... I'm really glad.

What are your projects for the next period of time, further away than December 2012?
I know I am going to perform in a production based on La Boheme, an opera concert, that is in Amsterdam, in April. I will perform here, at the Vienna State Opera, in all the performances in which I am cast and perhaps I will sing in more concerts during the summertime. I want to get some rest, because this is an extremely busy year and I also need to get some fresh strength.

How has your life changed after having won the Cardiff Competition?
It has changed right away and it was a change triggered by the moment itself; everything has happened on-the-spot. I had the chance to meet people from the world of classical music. After having won such an important competition, everybody knows you. Yet, it is obvious that this isn't everything in an artist's career, there is a lot of work involved and, subsequently, even more work than before, because if you want to stay at the top of the pyramid, you have to learn a lot and evolve. At that moment, I realized that it was a good start, but one has to work and persevere.

You mentioned a few roles you will perform. What roles would you like to to get to sing?
Honestly, I don't know. At the moment, I feel fulfilled from this point of view. I would like to play the part of Adina - I am a cover for this role here, at the Vienna Opera House. I am keen on this character, it's a special production that I enjoy and I'd really like to perform this role here. I'd also like some greater roles, such as Lucia, but not now. What roles I've to interpret right now are perfect and they suit me.

On which other stages would you like to perform? You have already been at the Vienna State Opera, you might sing at Teatro alla Scala in Milan.
Well, I don't know, I never plan to do anything, such as getting somewhere or checking something on a list. If it happens, then I am really happy about it. I hope to cope well with what is actually happening to me. I would be honoured to perform on any other stage. What's important is being there, on the stage, living and performing beautiful roles.

You have taken part in many mise-en-scènes and there are more coming up. You have probably watched many mise-en-scènes in this period - some of them classical, others modern - which do you prefer?
We can also speak from other points of view, because there are also artists in these mise-en-scènes and it depends on how the artist approaches the role and brings extra beauty to modern productions. There are, indeed, a lot of mise-en-scènes of modern productions; you see both a good and not so good a part in each of these, because we are talking about classical music and you'd rather enjoy seeing it in a classical production. It's the most beautiful thing. Now, people have changed and we all want something else, but we, artists, love to perform in classical productions. Of the most modern productions, I mention LaTtraviata, here in Vienna. I am not in the position to talk about what the director thought and wanted. These are nice productions, people come to watch them, everyone makes his own opinion. But it also depends on the artists, on how they approach the roles and choose to transmit the message to you.

From all the conductors you have worked with, which one has taught you the most?
I am really happy to be here, collaborating with many maestros. It has been a great pleasure for me to sing under the baton of many conductors, such as Guillermo Garcia Calvo, who conducted L'elisir d'amore, or Bertrand de Billy, with Tannhauser - they are special people. I am impressed by absolutely everything, there is something I can learn from each of them.

What are the hobbies of soprano Valentina Naforniță when she is not at the rehearsals or performances?
It is not a hobby, but if I had more spare time, I would be at home, next to my family, because I'd really like that and I feel the need to stay close to my loved ones. When I am here, I like visiting beautiful places, riding the bicycle, going to the movies or reading. Everything that any normal person would like to do, I would, too.

Any thoughts for the listeners of Radio Romania Music?
I wish them well, may they enjoy good music and all of the world's beauty!
Jeanine Costache
Translated by Mădălina-Elena Marin, Marcela Zorland and Elena Daniela Radu
MTTLC, Bucharest University