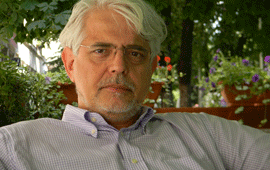 The 'Meridian' Festival Starts on 4th December
Monday, 3 December 2012 , ora 9.12

The
Meridian
Contemporary Music Festival
- Days of the Romanian National Music Section of the International Society for Contemporary Music is already a constant presence within the Romanian musical life. The composer Sorin Lerescu provides us some details regarding the 2012 edition of the festival:
'The 8th edition of the Meridian Festival is full of artistic events among which: concerts, the contemporary music performance, a CD release, a photography exhibit vernissage and, of course, the works, the opuses comprised in the festival's schedule, most of them being premieres and, at the same time, extremely contemporary.'

Are there any new guests on this year's list?
Yes, indeed, there are also young interpreters, namely the Mercury Quartet from Great Britain, which is a young musical group, but highly appreciated. It is led by Vlad Maistorovici and we expect a truly well organized concert from all points of view - interpretatively, first of all - and the programme they've prepared is interesting. There are also ensembles that have asserted themselves lately, I'm talking about the one led by Diana Rotaru - SonoMania - and, of course, acknowledged musical groups that people know from the contemporary music programmes performed during the International Week of New Music and the Meridian Festivals, but not only.
Ioana Marghita
Translated by Mădălina-Elena Marin and Elena Daniela Radu
MTTLC, Bucharest University