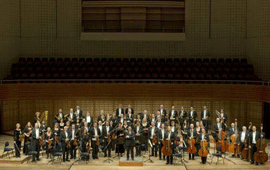 The Lucerne Symphony Orchestra - Interview with Numa Bischof-Ullmann
Thursday, 6 December 2012 , ora 9.25

Dating back to 1806, it is the oldest ensemble in Switzerland and it has had a great contribution to the renown of Lucerne as one of the world's music centres. It takes pride in having both a balanced and an intense mixture of tradition and innovation, with a classical-romantic repertoire and contemporary works performed for the first time.

How and why was the Lucerne Symphony Orchestra founded?
At the time, Lucerne was ruled by very liberal laws, which was related to the influence of the French people who had settled in our city. If Napoleon came to Switzerland not only with friendly intentions, as he occupied part of the country, but also by easing the opening of functioning rules for concert halls. Back then, theatre was a form of entertainment that was not allowed everywhere; Lucerna allowed it, though, which was why the city was so cutting-edge. In Zurich, the largest city in Switzerland, which would be easier to imagine as the origin of the oldest Swiss orchestra, Huldrych Zwingli's denomination ruled, and it was a strict form of Protestantism. Lucerne, however, had concert halls, the community loved music, they wanted theatre and opera performances and they needed an orchestra for that.

What kind of musician should one be to become a member of the Lucerne Symphony Orchestra, Mr Numa Bischof-Ullmann?
We are looking for the best-prepared instrumentists who also have a strong personality, of course. When we have a vacancy and we organise auditions, we receive applications from the entire world - indeed, there are no more borders. The quality of the musicians we listen to is incredibly high; if we have a violinist vacancy, the musicians perform Brahms' Concerto - we could already ask them to go on stage, before the audience! We are in a very competitive environment, our orchestra, with its history of 200 years, plays in one of the world's music cities, in a great hall, the Lucerne Culture and Congress Centre. We are compared to the great orchestras of the world that come to our city every summer, and this raises everyone's expectations - our expectations from ourselves and the conductor's from his musicians.

The chief conductor of the Lucerne Symphony Orchestra is young James Gaffigan now. The ensemble worked with several conductors belonging to different generations: Sir Neville Marriner, Péter Eötvös, Vasily Petrenko. How does each of them contribute to the history of the orchestra, what traces do they leave behind?
They leave behind the imprint of their musical personality, mostly, as well as the courage to argue their point and their vision of music. They are people who have transcended the limits of what can be done - interpretively, technically, which had a beneficial influence on the level that we perform at. We are never good enough, we must always reinvent ourselves and reconsider our position. We want to go for Brahms, for classical music, but, since you have mentioned Péter Eötvös, we also want to perform today's and tomorrow's music. I believe every one of our collaborators is a great teacher, or rather a great mentor, someone who inspires us.

The Lucerne Symphony Orchestra presents indeed a lot of new music. How important do you think this type of music is for your audience and for the instrumentalists?
Extremely important! New music is much more significant because it comes for our own tradition. Just imagine how many Haydn symphonies we would have today if the Esterházy patronage hadn't existed - what I mean is that we can never stop thinking that art needs visionary people who are looking forward. What comes from that might not have a great impact at the time, which is why we have wanted to contribute to the development of these ideas, and we certainly hope to take part in the birth of masterpieces. It is, however, very important to play the music that entered the repertoire centuries ago. We do not have entirely contemporary programmes, we insert them into a leading idea. We have had a series of concerts dedicated to the great contemporary German composert Wolfgang Rihm, who did us the honour of accepting to write specially for us. The idea was the following - we asked him if he wanted to write a musical commentary for each of Brahms' four symphonies. Without hesitation, which we consider a gesture of great friendship towards us, he agreed, and he said he was very much interested. This was the beginning of a very exciting project for everyone who worked for it: first of all for the composer, then for the instrumentists, who worked for weeks with a great artist of our days, and finally for the audience who listened not only to 10 minutes of Rihm's music, but rather 60, if you will! Rihm's music reflects Brahms'; one listens to Brahms and suddenly hears something else, one wonders how he has written that, how much of it is Brahms and how much Rihm. Thus they create a very interesting flow, or rather an interaction.

The Lucerne Symphony Orchestra offers night concerts, as well. Where did the idea come from?
It has come from the fact that I believe music goes with any moment of the day, not just with the 7.30 p.m. when we put on a suit and enter the concert hall. Music is part of our lives. This is why these night concerts exist, when people who have attended the earlier concert can relax - just like the artists, who are glad to perform that kind of short, famous works, which are often part of their favourites. It is a win-win situation for both the audience and the organisers. We also have lunch concerts, matinees, tea-time concerts. I thought that the ritual of subscription concerts, which has a very nice touch to it, is also rather rigid, and that we have to loosen it a little, to bring some spontaneity to going to concerts from the point of view of both the hosts and of the way music is made here - all of this without giving up quality, of course.

You also have a series of concerts for children!
Indeed, this side of our activity is very important! To come back to one of your earlier questions, the one that referred to new music - I think we play it exactly to better understand the tradition that has formed us. We have to think back, as well as forth. How can children acknowledge the value of today's classical music? Nowadays households where family members constitute a string quartet or play the piano are ever fewer - we rather find electronic games and, if we are lucky, an electric piano! We have to bring children closer, to show them the vitality and the vibration of music. We do a lot as far as this is concerned - we go to schools, we ask children to come and sit among the orchestra musicians.

A symphony ensemble is defined, among other aspects, by its sound. How do you define, Mr Numa Bischof-Ullmann, the sound of Lucerne Symphony Orchestra?
I would say it is very nimble, because it adapts to a lot of genres. Our new chief conductor, James Gaffigan, values a lot the fact that an orchestra is concerned with preserving style characteristics. This means that we have a correct, living performance, and that we can hold our heads high before any ensembles that specialise in historical instruments. We play Bach's music without fear, without thinking that we should leave it to ensembles with historical instruments. As for romantic music, we want to give it a fresh quality, a certain transparency, especially since we are not a large orchestra, we don't have 120 musicians like other ensembles. We have stressed upon a cast inspired by the Mannheim School - which means we play Brahms with 12 first violins, we may add a few more, if we feel the concert hall requires it, but we usually want our music to sound light.

You have also collaborated with pianist Radu Lupu. What is your relationship to the Romanian music and musicians?
You have already mentioned one of the greatest names of Romanian art - we have fond memories of those two concerts when Mr Radu Lupu was invited, they were some sort of moment of glory for us. Coming back to what we were discussing earlier, about the way we play Brahms - you do not need 150 musicians for a piano concerto by Brahms with Mr Radu Lupu: it is something magical, with an interiorised essence, you can't have a strong sound, you need a good sound. Which, for that matter, is one of my personal creeds. And then of course we are familiar with the name of Enescu, we also collaborate with Mr Lawrence Foster, the conductor with a Romanian origin who is a good friend of ours and who we work with very gladly. Let me also mention the pianist whose life ended so tragically - Ms Mihaela Ursuleasa, whom we unfortunately only had the chance to organise a chamber concert with, and we are very sorry we couldn't have an orchestra concert together. Generally, music from this part of Europe is very familiar to us - we include works from the Russian repertoire, we inevitably schedule some Bartok. Sometimes borders in music are very lax, sometimes you cannot tell exactly where a music comes from, because there are so many common sources. And we notice that better in traditional music, where the circulation, the migration of sound motifs is fascinating. Hungary, Bulgaria, Romania are all countries whose music we like very much.
After the interview, Mr Numa Bischof-Ullmann, the intendant of the Lucerne Symphony Orchestra, wrote us in an e-mail that he particularly wanted to mention, even outside the recorded dialogue, that the music of Dinu Lipatti - the composer is very important for Swiss artists.
Maria Monica Bojin
Translated by Irina Borţoi and Elena Daniela Radu
MTTLC, Bucharest University