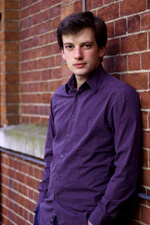 'The Lipatti Days', 2nd Edition - Interview with Pianist Mihai Ritivoiu
Thursday, 15 November 2012 , ora 10.04

After the success registered in 2010, the "Lipatti Days" event makes a comeback with a second edition in 2012, governed by the name of Mihaela Ursuleasa, who left us ahead of time in august 2012. The peak of the event is represented by the marathon-recital that will take place on December 2
nd
at the Romanian Athenaeum starting with 4 p.m., on the very day we commemorate the 62
nd
year from Dinu Lipatti's death. The four pianists that can be listened to are well-known to the Romanian public: Alfredo Perl, Mihai Ritivoiu (laureate of the 2010 National Piano Contest, organized by the "Lipatti Days"), Andrei Licareț and Nikolai Luganski. The tickets have already been put up for sale at the Romanian Athenaeum.

Mihai Ritivoiu, you will perform together with a select group at the Romanian Athenaeum on December 2nd. How do you feel when you play in a concert alongside famous artists from around the world, such as Nikolai Luganski?
It is truly an extraordinary moment for me. I have been an admirer of the pianist Nikolai Luganski for a long time, fascinated especially by his interpretations of Rachmaninoff's Preludes. And it is an honour and a wonderful moment for me to have the opportunity to perform with this great pianist, at the Romanian Athenaeum in/during the same event.

In 2010 you won the Contest dedicated to Dinu Lipatti, in your age category. Two years have passed since then and I would like to ask you what kind of impressions you had when you left and if that moment marked a certain impact on your later development as an artist.
I gained a very beautiful memento and I will keep it in mind for a long time, because it certainly influenced my evolution. It represents an important moment in my development and career evolution, because since that moment many opportunities of performing in different recitals have appeared. The first one was two years ago, right after end of the contest: it involved the recital in Lausanne, to which I owe the fact that I was listened to and invited again to perform in Switzerland, but this time in Geneva, at the famous "Ansermet" Studio, in a series of recitals called "La Tribune de Jeunes Musiciens". After two years, I can relate this recital to winning the Lipatti Contest in particular as well as to the recital at the Romanian Athenaeum on December 2nd.

Because you have mentioned the recital in which you will perform at the Radio Swiss Classic headquarters in Geneva on 9th December, I would like you to give us more details about the programme and the circumstances that brought you there.
The recital in Geneva will take place at the "Ansermet" Studio, and the programme contains Chopin's Polish-Fantasia, Enescu's Sonata, Debussy's first series - Images and Cesar Franck's Prelude, Chorale and Fugue. The invitation came from the Romanian pianist and agent, Mădălina Slav, who was present at my recital in Lausanne two years ago, and - because she was asked to recommend a young pianist for a series of recitals in Geneva - she contacted me and offered me the job.

Returning to the recital on 2nd December, you have chosen George Enescu's Piano Sonata No. 1 in F minorand Schuman's Carnaval, Op. 9. Why these two particular pieces?
There are various reasons. Enescu's Sonata has an important significance in my repertoire; I have also obtained a special prize for performing this sonata in the George Enescu Contest. It is also related to Dinu Lipatti's name. As it is well known, there has been a close relationship between the two great musicians, George Enescu and Dinu Lipatti, and it is certain that Dinu Lipatti performed this sonata, but only the second part was recorded. As for Schuman's Carnaval, I thought that it would be a contrasting piece and that it would set off well Enescu's Sonata. And it is also renowned the fact that Schuman was one of the composers most appreciated and more often performed by the great Romanian pianist.

Right now you live in London due to a scholarship. What teachers do you work with and how does your musical activity unfold?
Yes, I am in my first year of a Master's Degree in London, in the class of Professor Joan Havill, with whom I can say I have a very good collaboration. I am glad I ended up in her class, through a series of fortunate circumstances, I dare say. First of all, I had the pleasure to meet the French pianist Dominique Merlet at some master classes and when I asked him with whom I should continue my studies he recommended Joan Havill from London's Guildhall School of Music. And I am happy for ending up here. We work very well together, very intense, of course preparing the recitals we have been talking about and at the same time approaching new elements for my repertoire. London is a fascinating place through everything that takes place in it, whether there are concerts, exhibitions or theatre plays and it truly is a place that can stimulate any young artist. It is a remarkable place to study.

Can you tell us about other projects that you are currently working on?
In the near future, on Monday, 19th November, 2012, in fact, I will give a small recital in Paris, where I will perform again Enescu's Sonata and Schuman's Carnaval, as well as Debussy's first series,. The recital will take place in a performance hall owned by the organizers of the Villecroze Summer Academy, where I participated in a master class with Dominique Merlet two years ago. This is one of the summer academies that are organized in the south of France, at Villecroze every year, but the headquarters of the organization is in Paris, where the owners have a small recital hall, where they sometimes invite former students and participants in the summer academies, to perform.
There may be some long term projects, but I do not want to reveal anything before I am certain about them.
Larisa Clempuș
Translated by Roxana Țicămucă and Elena Daniela Radu
MTTLC, Bucharest University