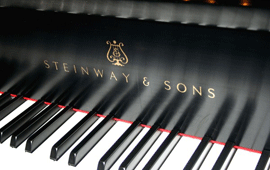 The long awaited Steinway piano inaugurated at the Timisoara Philharmonic
Friday, 27 January 2012 , ora 9.01

Starting 20 January 2012, the inhabitants of Timisoara will be able to listen to the majestic sounds of the Banat Philharmonic newest acquisition - a Steinway concert piano. The long awaited for instrument was brought to Timisoara last November and was inaugurated through a concert on Thursday, 26 January 2012, at the Capitol Hall.
The manager of the Banatul Philharmonic, Ioan Coriolan Garboni, talked about the new acquisition and revealed some of the next concerts organised by the institution he manages.

Tonight you are inaugurating by means of a concert the long awaited for Steinway piano. How did you manage to receive such an important instrument?
Through the generosity of the Local Council, which voted an important sum of money, about 130.000 €, VAT and transport taxes included. It is a very special piano, it was chosen by a pianist colleague of ours, a soloist who went to the factory in Hamburg and tried for several hours a number of pianos. It arrived in December - was in a running-in period so to say - and we decided to create for it a special event, especially since Timisoara did not have a piano of such importance. It is an event in which only parts of concerts will be performed. The Mayor of Timisoara and Ioan Holender- who is also the honorific president of the 'Timisoara - Cultural Capital in 2020' Association - will attend. The conductors of the concerts are those of the Philharmonic, maestro Gheorghe Costin and maestro Radu Popa. The soloists who will perform on stage are Manuela Iana Mihaiescu, who is an honorific soloist of the Philharmonic and will perform a work by Liszt; Dragos Mihaiescu, our soloist concertist, who will interpret the first part of 'Piano Concerto' by Schumann during the opening act followed by the first part of the 'Piano Concerto No. 2' by Sergei Rachmaninoff, this time with Sorin Petrescu playing the piano. And in the end of the evening, as a surprise, we prepared the last five minutes of the 'Choral Fantasy (Fantasia in C minor for piano, chorus, and orchestra)' by Ludwig van Beethoven, with young Liviu Holender playing the piano, the son of maestro Holender.
We are very happy to inaugurate this piano. We actually held two concerts in December playing it but this is the official inauguration of this instrument.

This acquisition will bring a breath of fresh air to the cultural life in Timisoara. What other events has the Banatul Philharmonic prepared for its audience?
Well, for example, we have as a guest next week, a concert master who, together with our soloist concertist, Tibi Popa, will provide an enchanting evening of Vivaldi. We have soloist guests form the Vienna Philharmonic. We hope to have Robert Nagy, first chair cellist and Johann Hindler, first chair clarinetist to play with us. Of course, our conductors, Radu Popa and Gheorghe Costin perform their duties with honours. We have Misha Katz as a guest, conductors from The United States of America, and South America.
We are happy to say we have lots of tours - a month-long tour in South Korea, a part of the orchestra is having a concert right now in Paris, we will also have a ten-day tour in France, another two-week tour in Holland and another ten-day one in Belgium, in December.
We are also preparing the 'Musical Timisoara' Festival; this year will be its thirty-sixth edition. We have invited important soloists from Romania and Europe. Maestro Gheorghiu will also attend, together with his wife, and will once again interpret the closing performance of the festival. We will also have the 'Travelling Piano' with Horia Mihail, who will perform for us in a concert conducted by maestro Costin. As you can see we have an extremely attractive playbill.
There are also the concerts for Europe Day, which are played outdoors, in atypical locations - we have already performed in the airport, in the forest, on a construction site, in a monastery. This year we have prepared a new special location.
I can also tell you that the Banatul Philharmonic receives many invitations. We have concerts in Resita and in Caransebes - close to a mini season. We have been invited to Deva and we have concerts in Baia Mare, as well. We will be requested to perform in several cities in the country, which is a great joy for us. This way we honour the name of Banatul Philharmonic. We work a lot, more than we would wish to, but this is a good thing, because this way my colleagues can increase their incomes, our salaries being very low.
We take pride in the fact that the great pianist, Elisabeth Leonskaja has accepted our invitation for the third time. She will perform in a concert on 01 June 2012, conducted by maestro Horia Andreescu, with works by Mozart.
Janina Bădici
Translated by Florina Sămulescu
MTTLC, Bucharest University