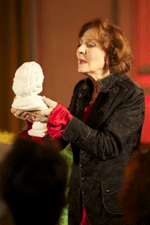 Kiki van Beethoven at the 'George Enescu' National Museum
Wednesday, 1 February 2012 , ora 14.01

Director Alice Barb has recently staged the performance Kiki van Beethoven by Eric Emmanuel Schmitt, a production where Beethoven's music seems to have the lead. Find out more from the following interview:

You have performed the directing and screen play for the performance Kiki van Beethoven, as well as the musical illustration for it. Which is the part of the music in this context and how did you make the selection?
The music is requested precisely by the title of this formidable text - the last text that Eric Emmanuel Schmitt wrote. The world premiere took place about a year ago, in Paris. Since it was about Beethoven's music, his wonderful music, and about how much it still influences us - basically the question that the text launches is whether or not we still truly hear this music, whether it still has any effects on our souls - I used fragments from Beethoven, fragments from the Fifth Symphony then fragments from the Fifth Piano Concerto. I used, of course, also requested by the text, fragments from the Ninth Symphony. It is, if you want, in the end, a story of an hour and twenty minutes, that awakens a number of feelings - from laughter, to crying - everything made happen with the help of Beethoven's music.

Kiki is a modern-day character. How would you describe her in a few words?
Kiki is a lady in her third youth, who lived a profound drama that she does not wish to remember. She is frightened because she no longer hears Beethoven's music, she laughs, she cries, with a formidable acting performance, sustained by Simona Bondoc, with whom it was a great pleasure working. After all, Kiki understands that suffering is part of life and, like all of us, she must let music of the highest quality reach her soul and thrill her. I have worked with a formidable team of ladies; starting with Irina Margareta Nistor, who translated the play, Adriana Grand, who was responsible for art direction and, once more, Simona Bondoc, a gorgeous lady, with a very young soul, and who, certainly, if you go see the show, you will see gives an acting recital, playing no less than eight characters.

Alexandra Cebuc
Translated by Alexandra Ilie
MTTLC, Bucharest University