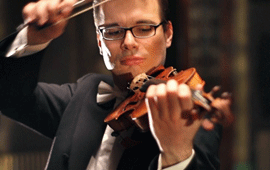 Interview with Violinist Alexandru Tomescu
Tuesday, 14 February 2012 , ora 12.08

The 'Ad Libitum' quartet from Iasi has a new member. Starting this month, the violinist Alexandru Tomescu, soloist performer of Radio Music Bands, will take the place of the dear departed Adrian Berescu as first violinist of the quartet. Find out more on this topic from the following dialogue:

When did you receive the invitation to join the 'Ad Libitum' quartet?
I talked to Filip Pana, Serban and Bogdan relatively soon after the death of Adrian Berescu last fall. It was a very painful moment for everyone. 'Ad Libitum' is a quartet with over twenty-three years of history and everyone was wondering what would happen to it. At that time Filip Papa himself said they had been decapitated. Yet, I thought that the quartet was a much too beautiful thing to disappear and I decided to do my best to stand up to their level - as it is not so easy to do quartet every day, for twenty-three years - and to learn as much as I could from them so that together we could carry forward the history of the 'Ad Libitum' quartet to where it deserved.

From what I understood, you performed a few recitals together with Serban Mereuta, Bogdan Bisoc and Filip Papa last year, in Holland. How were you received there and how would you describe the experience of singing with the 'Ad Libitum' quartet?
Indeed, we went on a first tour abroad, in Holland, where 'Ad Libitum' had been well-known for years. We were received with open arms and we had many extremely emotional encounters. Of course, everybody knew about the early death of Adrian Berescu and wanted to see what would happen to the quartet. All I can say is that, at every one of our concerts, the audience stood up, and during our last concert we enjoyed this standing ovation after every musical piece - a reaction that moved me to the core. Being a part of the 'Ad Libitum' quartet is an utterly new experience for me. Even if I have been playing chamber music for at least six or seven years now, a piano trio is definitely not the same as a quartet. Here I discovered a new harmony, different possibilities of expression which I did not even think of before. For example, I got to like Sibelius Quartet's Voces Intimaemore than Sibelius' Concert for violin and orchestra. Therefore, it's a new world, a garden generally forbidden to the soloists, in which I have been welcomed and which I hope to be able to explore in the following years, together with my colleagues.
Petra Gherasim
Translated by Valeria Anghel
MTTLC Bucharest University