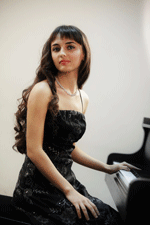 Interview with Pianist Ivett Gyöngyösi
Wednesday, 11 April 2012 , ora 9.29

The Radio National Orchestra Concert from 30th March, 2012, which was held under the aegis of the European Union Radio, had as guests three winners of international youth competitions. I talked to Hungarian pianist Gyöngyös Ivette, winner of the 2010 edition of the competition "Vladimir Krainev" held in Ukraine. In December 2011, Ivette Gyöngyös won the 'New Talent' Contest in Bratislava, which was also organized by the European Union Radio.

What motivates you to participate in competitions and what do competitions mean for you, in general?
I usually perceive competitions as real concerts. I have been competing on a regular basis from the age of 7, and amongst others I have won first prize at the Frederic Chopin International Piano Competition in Budapest. I think it is very important to participate in competitions and I especially like those which give me the opportunity to interpret works that require an orchestra because I enjoy performing with an orchestra. In December, in Bratislava, during the finals, I performed 'Concerto No.4 in G major' by Ludwig van Beethoven, and the event was broadcasted live in 14 countries by the European Radio Union.

How did you end up at the competition in Ukraine, which eventually brought you to Bucharest?
Actually, I joined the Vladimir Krainev competition out of the respect I have for this great musician. I was very sad when he died. , The proposal for the competition in Bratislava came from the Hungarian Radio. I was asked a recording, then several rounds of selection followed and, in the end, I was the winner.

As you mentioned, you have played 'Concert No.4 in G major' by Ludwig van Beethoven in Bratislava. Here, in Bucharest, you play Chopin's 'Concerto No. 1'. Why did you choose this piece and since when is it in your repertoire?
Chopin haunts me, if I may say so, ever since childhood. I played Chopin when I was 11 years old, when I was admitted to the Music Academy. I played the same concert in E minor in the finals of the Krainev competition. I started learning it at the age of 16, then I left it for a while as I studied works by Beethoven. Now, I feel once again inspired by Chopin. Regarding my concerts, I always choose works that inspire me at that particular moment and now I feel good in the company of Chopin. I am particularly close to this work I chose to interpret for the concert in Bucharest. I think it is a work that offers many possibilities for the performer. It is very difficult technically, especially in Part III, while the second one is lyrical. Thus, the artist can display all of his performing qualities.

Can you reveal some details of your future plans? When and where will the public be able to hear you play?
During both April and May I will participate in a tournament, in Hungary, together with Tamás Vásáry. We will interpret 'Concerto No.1 in E Minor' by Frederic Chopin, 'Concerto No. 4 in G major' by Ludwig van Beethoven, and works for four hands. Then I will travel to Leipzig, where I will participate in a master class given by Professor Arie Vardi. My greatest desire is to become a great artist and to make people happy.
Hajnalka Kerekes
Translated by Vlad Bîrsan and Florina Sãmulescu
MTTLC First Year, Bucharest University