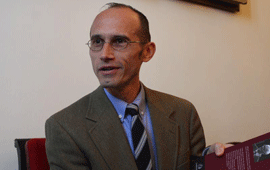 Rares Trifan about the National Operas Festival
Friday, 18 May 2012 , ora 9.47

The inaugural edition of the National Operas Festival will be held from 20
th
to 28
th
May in Cluj.
Rares Trifan, the manager of the Cluj-Napoca Romanian National Opera and also the organizer of this event, brings out more details:
In my opinion, the National Operas Festival is a necessary project for the Romanian lyrical life. Why?
Because this year's inaugural edition will be an opportunity for leading national institutions in Romania to be together on the same stage, each of them introducing representative opera productions.
An opera festival in Cluj, and not only, was a long-awaited event, as we have a film festival, the George Enescu music festival - gathering opera, symphonic music and other genres - a theatre festival, but no opera festival as such.

What will the programme include?
There will be a classical music show in the opening, and after a few lyrical meanderings, we will ring the curtain down on Nabucco 12, performance by Alexander Hausvater. The next day after the opening, we will present an HD projection, a Royal Opera House production - Tosca, starring Angela Gheorghiu. It is a must attend event for the public. The next shows are representative for each of the institutions invited to the festival. The Bucharest National Opera will present Evgheni Onegin - directed by Ion Caramitru. The National Opera in Timisoara will introduce to the audience Adriana Lecouvreur, a less-known Italian opera, with a visually generous setting and amazing music. The Iasi National Opera will regale its audience with two performances: a ballet show called "Ball" and an opera show - Don Giovanni directed by Beatrice Brancea.
Finally, if time allows, there will be an outdoor show on Sunday in the Union Square, collaboration between The Hungarian Opera and the Cluj-Napoca City Hall.
Nabucco by Alexander Hausvater will be the final performance of the festival.

There have been discussions about Cluj Napoca's candidacy for the European Capital of Culture. Could this festival have a say in the context of this application?
I believe so. When I thought of this festival, I also had in mind the goal set by the citizens of Cluj. By 2020, the festival has enough time to grow and gain momentum, so that it becomes the city's cultural brand, but also to celebrate the centenary of the Cluj-Napoca National Opera, the first Romanian opera.
Ciprian Iancu - Radio Romania Cluj
Translated by Gianina-Aniela Casleanu
MTTLC graduate, Bucharest University