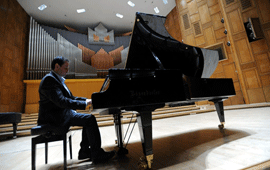 Horia Mihail, about 'The Travelling Piano' Tour
Monday, 21 May 2012 , ora 10.12

On 21
st
May, 2012, starts the second edition of 'The Travelling Piano' tour, a project promoted by Radio Romania Cultural and the 'Accendo' Cultural Association.
The second edition of 'The Travelling Piano' tour began right after the end of another concert series you performed together with flute player Ion Bogdan Stefanescu. How would you describe the experience of 'The Golden Flute' tour?
It was an experience I needed, because, lately, wind instruments were only occasionally part of the concert repertoires I performed. I really enjoyed seeing Ion Bogdan Stefanescu after nearly twenty years. At the beginning of the '90s we were even colleagues at the University of Illinois; we played together then. It was a very good experience that we both promised to repeat, and not in the very distant future, but this year.
Getting back to 'The Travelling Piano' tour, how do you plan to conquer the audience this year?
I do not aim to conquer anyone; I just want to share my ideas and what I feel with as many spectators in Romania. I believe I have chosen a very interesting programme for the audience this year. I'm talking about transcriptions of some famous pieces, by famous composers, transcribed by equally famous composers; I'm referring to some transcriptions of Rachmaninoff after some violin pieces by Kreisler or the Chaconneby Bach in Busoni's pianistic vision and many more.
You have scheduled, between 22ndMay and 11thJune, no less than seventeen recitals and five orchestra concerts - nearly double from the first edition. Which of these cities are more special to you and what piano will be 'the travelling piano' this year?
Every city is special in its own way. I really could not make a distinction between one place or another. There will be cities that I haven't visited in a very long time, like Buzau or Focsani, new cities, Roman. Getting back to what I was talking before, I forgot to mention that one of the tour's pièce de résistanceis 'Rhapsody on a Theme of Paganini'by Rachmaninoff, which I will perform in five cities: Targu Mures, Brasov, Bucharest at the Radio Hall with the National Orchestra, Bacau and Timisoara. The travelling piano number two will be a concert Bluthner, made available by the Romanian Radio Broadcasting Company; it will arrive, after a very long journey up and down the country, all the way to Sannicolau Mare, in Timis county, the birth place of composer Bela Bartok.
How did the decision to leave the piano to the local community come about and what does it mean?
It was at the request of the community. I understood there is a yearly festival over there; they needed the instrument and the Romanian Radio Broadcasting Company's management agreed.
Even though we have talked about how busy the next few weeks will be for you, I would like to ask you if you have any future plans.
Definitely. There are future projects. The first one being a vacation, because I had an extremely busy year and it will continue to be so. Besides the concerts you mentioned earlier, during the tour, I will have another three, together with Gabriel Croitoru and his famous Guarneri del Gesu guitar, and a concert in Chisinau, on 11thJuly. Then, since I mentioned Gabriel Croitoru, we will re-enact last year's duel, together with violinist Liviu Prunaru, who will join us in September, for an eight recital tour, also in Romania, with a new programme. The last tour was incredibly well received, and not only by the audience; we had interesting and positive feedback from those who did not go to the concert and listened to the recordings or watched clips online. Next, as I was saying, there will be 'The Golden Flute's', second edition, in November. We have planned other surprises for this year as well as the next.
Andreea Chiselev
Translated by Florina Sãmulescu
MTTLC, Bucharest University