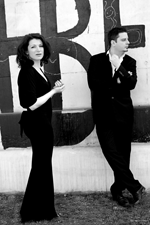 Matei Ioachimescu and Catalina Butcaru - Thoughts on the 'Paris' Tour
Monday, 21 May 2012 , ora 9.14

21
st
May is the start date of the "Paris" tour presented by flutist Matei Ioachimescu and pianist Butcaru Catalina. The playbill includes works by two composers celebrated in 2012: Claude Debussy and Jacques Ibert. The two artists can be listened to in Suceava (21
st
May - College of Music), Timisoara (24
th
May - "Banatul" Philharmonic), Bistrita (26
th
May - Synagogue), Cluj (27
th
May - Academy of Music), Bucharest (29
th
May - Radio Hall, 30
th
May - Șuțu Palace), Pitesti (31
st
May - Pitesti Philharmonic)

Two Romanian musicians working in Vienna go on a six-city tour around Romania. How did the idea of this tour begin and why was it called "Paris 2012"?
Matei Ioachimescu: I came up with the idea of such a tour two years ago during one of my trips to Paris. Walking along the streets of the French capital, I suddenly imagined seeing Debussy at a corner cafe. None other than Saint Saens was sitting next to him speaking, gesturing heavily and talking lively. While I was searching for my camera to capture this moment, the two obviously disappeared, so I was left only with the feeling of a time travel at a time when Paris was getting rid of conventions and was accepting a new musical language. Surely, this is a joke. This idea has continued over the years, and this is how, after the reunion with the wonderful pianist Catalina Butcaru in Vienna, we thought of creating a musical slide of Paris during that period: the end of the XIXth century and the beginning of the XXth century. It will be an emphasis on Debussy and Ibert's music; it's been 50 years since the disappearance of a very important composer of flutist repertoire. Our recital's programme is extremely varied comprising post-romantic music, post-impressionistic music, ritual music and ritual dancing music. It is a unique and extremely interesting programme, especially for the Romanian public, who hasn't probably had the opportunity to listen to a monumental work by André Jolivet called Chant of Linos. I play with an extraordinary pianist, Catalina Butcaru, more known in Vienna and London than in Romania.

What are your thoughts before the national debut of the "Paris" tour along with flutist Matei Ioachimescu?
Catalina Butcaru: Obviously, the presentation of this programme in Romania has a particularly emotional importance to me. I have not played in Romania for a long time. I have rediscovered Matei although we have known each other since I was 12 years old when we were pupils at "George Enescu" Music High School in Bucharest. It was indeed a great discovery and a great pleasure for us to play music together. In addition to his uncommon virtuosity and great sound quality, very fascinating to me is his musical intelligence, an unusual intuitive musical intelligence and special sensitivity that somehow bring us together; and I think we complete each other very well, so I am looking forward to it and I'm very excited about our collaboration and the fact that we will play so much, especially this programme that I have told you about earlier and the fact that this tour will be organized in Romania.
Andreea Chiselev
Translated by Elena Daniela Radu
MTTLC, Bucharest University