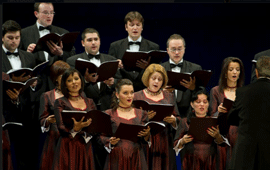 Voicu Enachescu, Conductor of the 'Prelude' Choir, Talking About A New International Award.
Tuesday, 22 May 2012 , ora 9.13

During 15
th
and 19
th
May, 2012, the thirty first edition of the Orthodox Religious Music Festival took place in Byalistok, Poland. The 'Prelude' Choir, conducted by Voicu Enachescu won the first place at the 'Professional Choir' category. With further details, conductor Voicu Enachescu:

How did the Festival evolve and what other ensembles attended?
I was invited to the Orthodox Religious Music Festival almost a year ago. The organisers insisted on us being there. I was surprised to see that a very great number of choirs were present at this event, which had a very high artistic level. I'm only stating some of the ensembles from Russia, Ukraine, Baltic countries - Estonia, Latvia, Lithuania, and then choirs from Belarus, Bosnia and Herzegovina, Poland and Republic of Moldova. Our satisfaction is even greater considering this enormous assembly of Slavonian choirs, where the 'Prelude' Choir managed to make a stand, by winning the First Prize, in a very good quality competition.

How did you come up with the programme you performed on the stage of the Festival?
What was important for us was to present in an international festival the orthodox religious music. We started with a few Byzantine songs, then with a more modern work, an Axion, written very inspired by composer Dan Dediu, a few works for the Russian repertoire and the last piece, which, actually, I believe left a very good impression, and which was a piece we had just received two weeks before the festival from the organizers who particularly asked us to include it in our programme.

What other events are now in the books for the 'Prelude' Choir? What projects are you preparing?
On 26th May, 2012, we have a concert at the Cultural Centre in Topoloveni, at the invitation of the town's authorities, then another on 28th May, at the St. Elefterie Church in Bucharest, during the permanent 'Paul Constantinescu' Season, organized by the National Choir Association. Afterwards we will begin our training for the festival-tour in Beijing, which will take place between 14th and 23rd July.
Andreea Chiselev
Translated by Florina Sămulescu
MTTLC, Bucharest University