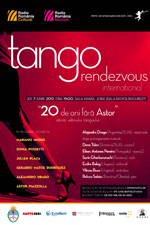 Tango Rendezvous - 20 Years Without Astor at the Radio Concert Hall
Friday, 8 June 2012 , ora 9.23

On Thursday night, Tango lovers had the opportunity to watch at the Bucharest Radio Hall, the concert called
Tango Rendezvous
, held by a musical ensemble consisting of 9 musicians conducted by the Argentinian violinist, conductor and composer Argentine Alejandro Drago.
20 years without Astor - Future Tango History, is a concert meant to celebrate the legacy of Astor Piazzolla, who passed away 20 years ago.
Mr. Gavril Tarmure , President of the Bistrita Concerts Society cultural foundation , will offer us more details about the concert.
On Thursday, 7th June 2012, the Radio Hall stage will host an unique concert dedicated to the music of Astor Piazzolla. How was this initiative born?
The Bistrita Concerts Society Foundation holds an annual concert season with about 50 music chamber concerts and around 10 vocal-symphonic or symphony concerts.
The work we are performing here offered us the privilege to know the American musician Alejandro Drago, a violinist born and educated in Argentina, the United States and Moscow.
He is currently a professor at the Georgetown Music University.
He had the idea of ​​a project in which he only plays Astor Piazzolla's compositions, then this year's tribute to Piazzolla - the concert is called 20 Years Without Astor - with compositions by Piazzolla 's contemporaries and some his followers, likeAlejandro Drago, both performer and composer.
The musicians in the ensemble really wanted to play in Bucharest.
Hence, this project was born out of respect and love for this great composer of the twentieth century.
Alexandra Cebuc
Translated by Gianina Casleanu
MTTLC, Bucharest University