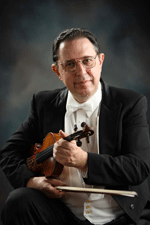 London Cultural Olympiad - Interview with Violinist Sherban Lupu
Monday, 2 July 2012 , ora 11.13

London Cultural Olympiad - Interview with Violinist Sherban Lupu
On June 29th, 2012, violinist Sherban Lupu had a recital at the Romanian Cultural Institute in London, on the occasion of the anniversary of 60 years that the musician turned on June 21st, 2012. Sherban Lupu played, being accompanied by pianist Tom Blach, musical pieces by Beethoven, Debussy, Heinrich Wilhelm Ernst and George Enescu. The recital is included among the events offered by the Romanian Cultural Institute at the London Cultural Olympiad.
Radio Romania correspondent in London, Dan Vasiliu, took an interview with Sherban Lupu.

What is your relationship with George Enesco`s music?
Enesco was the pole that helped me comfort my nostalgia, as leaving my country when I was very young and I have not returned home for 20 years. I got far in California and I was heartsick and only Enesco made me succeed in finding my soul, my identity. He was the helping hand that prevented me from forgetting who I was, where I was coming from and which were my goals. At the same time I wanted to reward my deep feeling for Enesco, mainly by playing his pieces in all concerts on several continents, to Japan, Taiwan, China and especially in America. Never has there been a concert without one Enesco`s piece at least. Then, later due to the research I made, through the discoveries of new manuscripts, musical arrangements, pieces that were re-composed, a CD was released by London House Radio Publishing house, a CD which was dedicated to his less known or even unknown musical works, although it is somehow a reward that comes from my gratitude for his genius and his music.

Do you remember the first meeting with Enesco's music?
Of course, altogether with my late professor George Manoliu, who taught me during my early teen years, to find and 'create' that ineffable sound, full of color and variety in the IInd Sonata in F minor.

When you were Yehudin Menuhin`s student would you often talk with him about Enesco,'the man'?
As a matter of fact each lesson or musical explanation began with 'my master Enesco said that', 'my master Enesco taught me that'… Enesco was always present in his soul and His words on Menuhin`s lips. Our lessons were led by Enesco`s wisdom.

Meanwhile you have become yourself a teacher. How do you feel young people today, are they bent on Enesco`s music?
They are very receptive. I was surprised especially by Asian students that I had taught Enesco`s works and who immediately, I could say, understood this 'language', 'translating' it pretty well and preserving it in their hearts and souls. As I noticed, Romanian students are still unfortunately a little shy in playing Enesco`s musical pieces. I think they should be more courageous and do their best, as Enesco will reward them a thousand fold for their efforts.

Do you have any explanation why are they still shy?
Frankly, I think they are overwhelmed a little bit by the complexity of his works. I hope that, on one hand the unknown works of these volumes and on the other hand the CDs, will give them the opportunity to feel closer and make them follow the path of his creation.
Dan Vasiliu – Radio Romania correspondent in London
Translated by Alinda-Gabriela Ivanov
MTTLC, Bucharest University