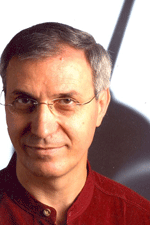 'George Enescu and World Music' Festival Has Begun - Interview with Marin Cazacu
Wednesday, 1 August 2012 , ora 8.16

'George Enescu and World Music' festival has become a long-awaited for presence for music lovers who, not even in summer, do not forget to love classical music. The Festival goes on until 19
th
August, the same as every year, the day when George Enescu was born; and from year to year, the festival has grown, thanks to the quality of its interpreters and the suggested programmes. During the first day of the festival, on 31
st
July, the Romanian Youth Orchestra, conducted by Cristian Mandreal, gave a concert in Sinaia. Further details about the 2012 edition of the 'George Enescu and World Music' festival from the 'soul' of the event, from cellist Marin Cazacu:
'The 13th edition of the 'George Enescu and World Music' festival begins in Sinaia, here, where George Enescu started his career in a way, backed up by the royal family and where he continued to teach and carried on the tradition of nurturing the love for music in the souls of young interpreters.
This youth orchestra which was started here in Sinaia, opens this thirteenth edition with a very special programme. We will begin with a piece written by maestro Dan Dediu, 'Eldorado', in first audition, afterwards, in the first part of the evening, we have two pieces from the Romantic repertoire, the overture 'La Forza del Destino' (The Force of Destiny) by Giuseppe Verdi and the symphonic poem 'Don Juan' by Richard Strauss.
In the second part of the programme, the Romanian Youth Orchestra will perform the 'Symphonic Dances' by Sergei Rachmaninoff and the programme will end with a Romanian piece, already familiar to everybody, George Enescu's 'Romanian Rhapsody No. 1'.
This very special concert is conducted by maestro Cristian Mandeal and because we've talked about Sinaia, from this year on, this event, together with several more, will be replayed in other musical zones, I'm talking about the concert in Bucharest, when the Romanian Youth Orchestra will perform the same programme at the Romanian Athenaeum, on 1st August, and especially on 4th August when we will compete in the most important and prestigious festival dedicated to national youth orchestras, I'm referring to Young Euro Classic festival, which is on its twelfth edition, and where the Romanian Youth Orchestra was invited to perform this programme which in a way measures the capabilities and fantasy of the Romanian people conveyed in the two works presented. I'm referring to the piece in first audition by Dan Dediu, 'Delirium 2' and 'Romanian Rhapsody No. 1' by George Enescu, and in the middle the same works we are performing in Sinaia and Bucharest.
We have some important guests and who actually contributed to the festival's tradition. I'm talking about Elisabeth Leonskaja, who attends this festival for the second time, Mihaela Martin, who will also have a masterclass, violinist Liviu Prunaru, violinists Valentina Sviatlovskaia from Russia, Gabriel Croitoru from Romania. Also invited, Frans Helmerson, who will also have a masterclass, Cristian Ifrim from Spain, pianist Maruxa LLorente, from Spain, and also Steluta Radu from Romania and let's not forget the Valentin Gheorghiu family and their guests, in a programme we hope will bring joy to the music lovers' souls.
Ioana Marghita
Translated by Florina Sămulescu
MTTLC, Bucharest University