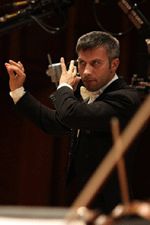 The National Radio Orchestra and Conductor Tiberiu Soare in Shanghai
Monday, 20 May 2013 , ora 9.02

On Friday, 17
th
May the National Radio Orchestra gave a concert with music by George Enescu in Shanghai, during the International Music Festival that has taken place every year since 1960 in the metropolis. At the Shanghai Oriental Art Center, opened in 2005 by the Berlin Philharmonic Orchestra, the Romanian Radio Orchestra, led by its chief conductor Tiberiu Soare, performed
Romanian Rhapsody op. 1 no. 1 in A major
and
Symphony no. 1
by George Enescu,
Concerto no. 2 op. 83 in B-flat major
by Johannes Brahms and a composition that the Chinese audience appreciates much,
The Lark
, performed thanks to violinist Gabriel Croitoru. We talked to conductor
Tiberiu Soare
before the concert, and he offered us a few details about the invitation to Shanghai.

You will conduct the National Radio Orchestra in a special concert in Shanghai. What could you tell us about the event and the festival it is part of?
Spring Music International Festival has a long tradition and it has been organised in Shanghai since the 60s; it is, if you will, like a counterpart of our 'George Enescu' International Festival. It is a festival of international renown, acclaimed orchestras from all around the world are invited to play there and now we can say that, fortunately, the National Radio Orchestra is becoming a member of this major league, as a guest at this reputable festival. It is a great honour and we hope we will give an extraordinary concert, making an excellent impression to all of those who will come to listen. Granted, the National Radio Orchestra, simply because it is a national one, should represent Romanian culture across the world. Choosing George Enescu's music was natural, as this year we organize the 'George Enescu' International Festival in Romania. The music of the great Romanian composer must become known by as many people all over the world. It is a duty of honour and the National Radio Orchestra aims to perform more of Enescu's symphonic works, during this season and the next two - not just his symphonies, but his suites for orchestras and his vocal-symphonic poems, as well, such as 'Vox Maris'.

In fact, it is not the first time you go to Shanghai with the National Radio Orchestra. What were your impressions after the concert in 2010?
Excellent. In 2010 we went to the World Expo organised in Shanghai. The orchestra gave an outstanding performance then; and the feedback was not just positive, but laudatory. I am saying this without being afraid of seeming to lack modesty, because I was not the chief conductor of the orchestra back then, I was only a guest conductor that evening, but I still remember it - even now, three years later - as a very special one. The orchestra made very, very good music then, and it seems the impression lingered and I dare say the invitation this time is somewhat due to that concert three years ago at the World Expo.
Andreea Chiselev
Translated by Irina Borțoi and Elena Daniela Radu
MTTLC, The University of Bucharest