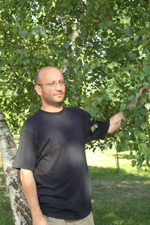 Young Romanian Artists in Dublin
Thursday, 13 June 2013 , ora 8.47

Young Romanian artists were involved in a performance including electronic music, video projections and dance, which took place in Dublin, on 8
th
June. They are: the composers Sabina Ulubeanu, Diana Rotaru and Cătălin Crețu, the flutist Ana Chifu, the bassoonist Maria Chifu and the video artist Mihai Cucu. You can learn more about this event from the following interview, given by the composer
Cătălin Crețu.

Mr. Cătălin Crețu, how was this event born?
We have received an invitation from the Dublin Sound Lab Association and we have obviously accepted it. Last year they were invited to the InnerSound Festival in Bucharest, so they somehow returned the invitation. It was a very interesting project, with both Romanian and Irish composers and multimedia artists participating. The Irish artists were: Jonathan Nangle, Piaras Hoban and Fergal Dowling. Moreover, a very talented dancer, an Irish performer - Philip Connaughton and an Irish harpsichordist - Michael Quinn also took part in the performance.

This concert took place at the Smock Alley Theatre in Dublin. Is this an important theatre? What kind of audience did you have?
I'm glad you mention the theatre, because it's the oldest in Dublin. I was quite fascinated with the venue when I stepped there for the first time. Especially when I found out that Jonathan Swift was also there at some point. It's a gorgeous building. It's not very big; it only has around 100 seats. The audience was very warm. Before the show we went to the Contemporary Music Centre in Dublin, a sort of Association of Irish Composers. We also performed there, in front of a numerous audience.

Will this Romanian-Irish collaboration continue?
Yes, I think it will, because Irish and Romanian people are somewhat alike. They are very warm and friendly. I wish we could take this collaboration to a higher level.
Monica Isăcescu
Translated by Mihaela Olinescu and Elena Daniela Radu
MTTLC, The University of Bucharest