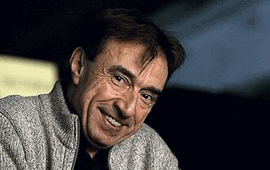 Vasile Șirli - 65
Wednesday, 25 September 2013 , ora 8.01

On Wednesday, 25
th
September, 2013, the famous Romanian composer
Vasile Șirli
- musical director at Disneyland Paris - will be 65. On this occasion, he was kind enough to answer a few questions in a short interview.

Mister Vasile Șirli, this March you were given a Gopo Award for the soundtrack of "Somewhere in Palilula", the film directed by Silviu Purcărete. What does this award mean to you ?
First of all, I am pleased that an original score was noticed. That it is mine or another's, it is very important for music to be noticed, in a professional sense, and I am glad this time it was my music that was noticed. The work on "Somewhere in Palilula" started many years ago; even from the beginning, with Mr Silviu Purcărete, on the idea for the film, then for a first script, a second one, a third one, and then gradually the music came together, it was a lot of original music, folk and light-hearted music - which was already there - and opera music - Verdi - which had to be adapted to the script. This took us a long time and it involved intense minute work... so this project means a lot to me, both from the sentimental and artistic point of view, in the word's broadest sense.

Let us return to the past for a moment. What memories do you have with Radio Romania?
The first radio shows I made there as a producer gave me great joy. I'm referring to the 70s. As for the radio in general, it means my entire childhood, all that I represented my contact with the outer world, when I lived in my home village, in Variaș, Timiș.

I know this is where you listened to the Radio Children's Choir.
Yes. It was an open door, a window to another world and thanks to the radio, I discovered it. That was due to the children's voices, surely, which sounded very differently in a boy's imagination in Banat in the 50s,. I wished to be like those who sang in the Radio Choir - this radio choir is an absolutely fabulous musical instrument, it has always been, and I am glad to see that they still have the same preoccupation for voice and perfection.

You have been Disneyland Paris' musical director since 1990. This means you love Disney movies and promote them in this theme park. How would you describe your work with Disneyland?
Extremely diverse. And when I say 'extremely diverse' you must understand it truly is so - from strict music for films, to developing music themes or writing new music themes for the shows in the park, from music for small orchestras to large symphonic and choral ensembles. Everything undergoes a constant renewal, going from one musical genre to another, and in any case, this is always done with great artists, musicians of great quality, actors, directors and choreographers.

I will not ask you about becoming the musical director of a Disneyland Bucharest, but I will ask you whether you are thinking about participating at the `George Enescu International Festival` in 2015, with music for motion and animated pictures, maybe with scenic movement, too. I am asking you because these days we are enjoying the last concerts of this year's edition of the festival.
The `George Enescu InternationalFestival` is a very important event in the Romanian music world and in Europe, in general. It is a place of confirmation for many artists, a place where what they do is valued. The festival's plans are made very long before and they follow certain themes. I haven't been made such a proposal. I would be very glad to take part in something like that... I don't exactly know how . We'll see. In any case, every event related to the `George Enescu International Festival` is close to me and I follow them with great interest.

Thank you for the interview and Happy birthday from me and from my colleagues at Radio Romania Music ! We would like to offer you a musical gift so would you please tell us a classical work or a chansonnette that you would be pleased to listen to anytime ?
A piece by Mahler. It can even be the second part of his first symphony.
Liviu Pețu
Translated by Irina Borțoi and Elena Daniela Radu
MTTLC, The University of Bucharest