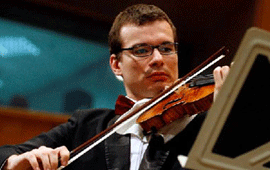 Alexandru Tomescu Will Continue to Gve Life to the Stradivarius Violin
Tuesday, 19 November 2013 , ora 8.19

Alexandru Tomescu has won for the second time the right to play the 1702 Stradivarius Elder-Voicu violin. On 18th November, 2013, the artist was the only participant to the Culture Ministry and the "George Enescu" Philharmonic competition in order to get the right to play the before mentioned violin for the next five years, until 2018. About the competition, the violinist Alexandru Tomescu has said:

"It was a very difficult competition because just as six years ago, in 2007, it was required to perform many plays in their full version. I actually estimated that performing the whole competition programme would be equal to holding a concert or a recital with a different script every day, for a week. It consisted of four concerts for violin and orchestra, five sonatas, from which two were Enescu's, the 2nd and 3rd and five Paganini Caprices.
The jury was made out of famous Romanian musicians. I am referring to Nicolae Licareț, the "George Enescu" Philharmonic art director, the conductor Christian Badea, the violinists Daniel Podlovski and Varujan Cozighian.
I am thrilled that I will be able to continue the projects that I have already started for the next five years. I am talking about the Stradivarius Tour and the charity activity that are directly related to this violin, and more than that, I want to go even further than before by putting bigger projects into action."

Translated by Roxana Țicămucă and Elena Daniela Radu
MTTLC, The University of Bucharest