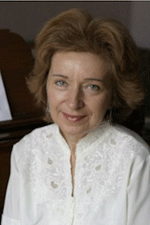 Interview with the Pianist Anda Anastasescu
Tuesday, 3 December 2013 , ora 9.35

The Romanian Cultural Institute in Prague organises the concert entitled
"
Constantin Silvestri's
Centenary" at the Music Academy in Prague on 5th December; performers:
Anda Anastasescu, Cozmin Sime and Nicholas Carpenter. More on this event in an interview with one of the protagonists:

Mrs. Anda Anastasescu, these days you will be promoting Constantin Silvestri's creation again, in two very interesting cultural spaces, in Brussels and Prague.
The concerts are to take place in the main conservatoires in Brussels and Prague and the slightly different programmes include the following pieces: in Brussels, there will be a soprano from the Republic of Moldova, Olga Busuioc, whose performance of Silvestri's lieds I will accompany on the piano – in fact, Opus 1 by Silvestri, whose verses were written by Heine at the age of 14 or 15.. In Prague, I will play alongside a Romanian baritone hailing from Oradea, Cozmin Sime. There we will play Silvestri's last opus, Op. 28, which comprises three songs set to the verses of Maria Rilke. It is very interesting to see the path Silvestri walked on and shaped through his compositions, between Op. 1, to the verses of Heine, and his last opus, which is another opus for voice set to the verses of Rilke. Op. 28 is an entirely different musical world, a different musical area, a much more abstract one. In both concerts I will play Silvestri's Suite no. 2 for piano solo, Jocuri de Copii (Children's Games), which is always charming for both the public and the performer, and in Prague we will play alongside Nick Carpenter, one of the main clarinetists of the London Philharmonic Orchestra. We will end our programme with Silvestri's Sonata for Clarinet and Piano, which is a kind of a musical bomb.
That's it as far as Silvestri's pieces are concerned, but we also associate him with Enescu in these concerts, because there is a great connection between the two brilliant musicians, so that we will play Seven Songs Set to the Verses of Clément Marot in Prague, and a doina and Languir Me Fais, which are also pieces included in the Seven Songs Set to the Verses of Clément Marot, in Brussels. Besides, as I am performing with the London Schubert Players and of course Schubert will be part of the programme. I will play Forellenquintett - The Trout Quintet – and in Prague, Martinu's Sonatina for Clarinet and Piano. As he is a Czech composer, we will open the programme with him. He balances extremely well Silvestri's Sonata pentru Clarinet and Piano in the end of the programme and I am very curious to investigate Martinu's life and ancestors, as I have read somewhere that he might have Romanian ancestors. I have no idea if this is common knowledge, but I would like to find out more about it. Very interesting and important, I think, for the musical archive, is the fact that two composers wrote pieces especially for Silvestri's centenary, for these two concerts. Adina Dumitrescu, who lives in Finland, has written Etincelles (Sparks) for quintet and piano, in the exactly same instrumentation as Die Forelle (The Trout). And in Prague, the English composer Drew Wilson, whom as a matter of fact I have already brought to Romania on the occasion of the 'Invitation to composers' project, has written a piece for clarinet and piano , in memory of Silvestri. There are very interesting and different things in these two programmes.
We have to tell our listeners that these events will take place in Brussels on 1st December and in Prague on 5th December. Thank you very much and good luck!
Thank you!
Irina Hasnaº
Translated by Ana Cristina Dumitrache and Elena Daniela Radu
MTTLC, The University of Bucharest