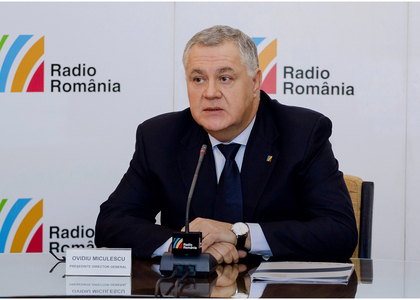 Dialogue with Ovidiu Miculescu, general president-director of Radio Romania, about RadiRo - The International Festival of Radio Orchestra
Monday, 25 January 2016 , ora 9.41

Dear Mr. Ovidiu Miculescu, can you tell us the reason that contributed for the creation of a new festival of the radio orchestras, RadiRo - The International Festival of Radio Orchestra?
In any domain you must start from somewhere. The radio is very important for the culture and especially for the music. We considered that we must do more than that and to gather the European radio orchestras in an important event and to see how they will be received by the audience. The first edition took place in 2012, with four orchestras, and the audience was excited. EBU took over the concerts, our radio partners were glad to perform within the festival, and thus we thought to organise a second edition, at which five orchestras participated. At the first edition were present RAI Torino, BBC Symphony, Orchestre Philharmonique de Radio France and National Radio Orchestra, while at the second edition we had Stuttgart Radio Symphony Orchestra, Finnish Radio, Prague Radio Symphopny, Orchestre National de France and National Radio Orchestra. The Norwegian Radio Orchestra, Radio Symphonie Orchester Viena, China Philharmonic, MDR Leipzig Orchestra and BBC Concert Orchestra will come to Bucharest in 2016. We appreciate very much what you do for the music domain and I want to make sure that the presence of your orchestra in Bucharest will be very well prepared. The festival is like an exam: now, not only Europe, but Asia is also interested in this event. Many radios and TV stations from Asia will broadcast the RadiRo concerts, the interest is bigger that you can imagine. It is important the fact that we organise this event, in this moment we are the only festival from Europe dedicated to the radio orchestras and we intend to raise the quality level at each edition. I would like to thank you for the fact that you will participate at the Festival from September.

Kristjan Järvi was designated honorary director of the festival in 2016: he will be the third Cristian, after Christian Zacharias and Cristian Mandeal...
Indeed, it is a Cristian dinasty...

However, I am really sure that this was not the main criterion for which you chose him for the honorary director... Which is the factor that it recomands Kristjan Järvi as the perfect partner of this festival?
Designating a honorary director means many things, the professional performance, the human qualities, the reputation. Kristjan Järvi is special, is the person that can perfectly be identified with this type of European music event. He belongs to the new generation, he is a successful conductor, very dynamic, very open-minded, he has success, and your orchestra is the oldest orchestra from Europe. We have enough arguments in order to entitle him for this position. It is more that just a simple profile or CV, it has been an elemets association that contributed to this nomination, we are very proud and have big hopes.
Silvia Lauppe
Translated by Oana Diaconu
MTTLC, the University of Bucharest, 2nd Year