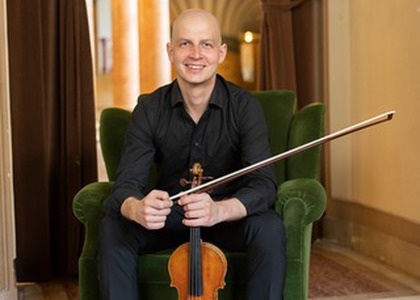 Interview with violinist Valentin Serban
Monday, 17 January 2022 , ora 9.32

The Philharmonic from Sibiu opens the series of events from 2022 with a symphonic concert. The orchestra of the institution, conducted by Pawel Kapula, will perform on the stage of Thalia Hall. The guest soloist will be the violinist Valentin Serban, who will perform the Concerto in D major op.35 by Piotr Ilyich Tchaikovsky.

Mister Valentin Șerban, you ended 2021 continually active and you are starting the new year in the same manner. You will be the soloist of the first symphonic concert in 2022 on the stage of the Philharmonic from Sibiu. With what thoughts did you start preparing for this concert?
Firstly, I am very eager to start the year so early, as I am being active, and I am glad that it is the first time I will sing with the Philharmonic from Sibiu. I also sang in Thalia Hall, however, I was not accompanied by the Philharmonic. So, it is a particularly good occasion to start the year properly. And I also am glad that I am preparing Tchaikovsky again, I think it has been five years since I have sung it.

As you said, you will perform Piotr Ilyich Tchaikovsky's Concerto in D major op.35 for violin and orchestra. What motivated you to choose this work?
I and the conductor chose the concert together; we came up with some options and we decided that it would fit best in the program.

In the final of the "George Enescu" Contest, you performed the Concerto op.47 in D minor signed by Jean Sibelius. Here's D major by Tchaikovsky. By comparison, how do you relate to the music of the two composers, both in the studio and when it comes out in front of the audience?
Each concert has its difficulties; however, the study is the same. There are different technical or musical problems to solve and, depending on how comfortable and appropriate the concert is. I admit that Sibelius may suit my temperament better, but I love Tchaikovsky as much, as well asother great concerts that I am looking forward to playing.

Finally, we would be happy to find out what the future agenda of the violinist Valentin Șerban looks like!
I am also glad to see the agenda because I have a lot of beautiful concerts. I will have a project with Les Dissonances and David Grimal in Paris in January; we also have a tour in France and Belgium. I will play Bruch's Scottish Fantasy in Brașov in February and along with the National Radio Orchestra. In March, I will have a project with the Romanian Youth Orchestra, I will have a concert in Oradea with Răzvan Suma with the Double by Brahms ... Now I don't know everything by heart, but it continues this way until the middle of the year. I have so many beautiful projects that I enjoy and that I am looking forward to!

Photo credit: Andrei Gîndac
Interview by Maria-Isabela Nica
Translated by Roberta Ana-Maria Gulerez,
University of Bucharest, Faculty of Foreign Languages and Literatures, MTTLC, year I
Corrected by Silvia Petrescu