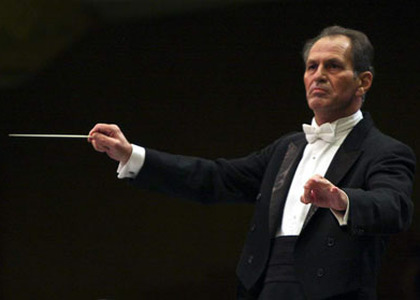 Interview with conductor Cristian Mandeal
Friday, 21 January 2022 , ora 13.11

Tonight, at 7pm, the Radio Chamber Orchestra will give its first concert of the year. In the forefront of the programme is the harp, with Maria Bîldea as a soloist. Cristian Mandeal will be at the rostrum.
More details about the concert we can find out from maestro Cristian Mandeal, in an interview done by Florica Jalbă during a break from the rehearsal:

You return to conducting the Radio Chamber Orchestra in the ensemble's first concert this year. The programme is constructed around the solo instrument of this evening - the harp; with Maria Bîldea as performer. How do you see this musical journey from Rachmaninoff to Ravel, Debussy and Richard Strauss?
It is a bunch of composers that are very different, in a way, between themselves; except for Debussy, Ravel, of course. But between Rachmaninoff as a typical lyrical composer par excellence, a Russian composer, Debussy and Ravel on the other hand, with all the refinements of known language and the impetuousness combined with the poetry of Richard Strauss as a typical exponent of the school of late German Romanticism, to me it seems to be a very complex combination in approaching styles, different kinds of music, but which in a way have a common denominator, namely the historical era. All these are concentrated around the end of the 19th century and the beginning of the 20th century.

How do you view the harp as a solo instrument?
It is a delicate instrument. It is difficult to accompany it, in the sense of adjusting specific sounds in the orchestra for the harp. For me, it seems to be a brilliant instrument, extremely colourfulin the end, despite a certain monotony of timbre. Anyway, the richness of expression resulting from the combination of the great sound complexes that make up the score of the harp are convincing and eloquent enough for it to stand as a solo instrument in front of an orchestra.

As far as you are concerned, what does this year's agenda have in store for you?
In general, I work with my youth orchestra on various projects, which we hope we will be able to accomplish, because of the pandemic and low funding - two opposing factors. But still we have some beautiful projects, even abroad. In my turn, I will go to Bulgaria, to Serbia, I hope to Italy as well if some projects materialize. I will probably return to the Radio Symphony Orchestra, probably in April-May, and for the rest, concerts in the country, at various reputable Philharmonics in Romania.
Interview by Florica Jalbă
Translated by Ecaterina Bucovanu,
University of Bucharest, Faculty of Foreign Languages and Literatures, MTTLC, year I
Corrected by Silvia Petrescu