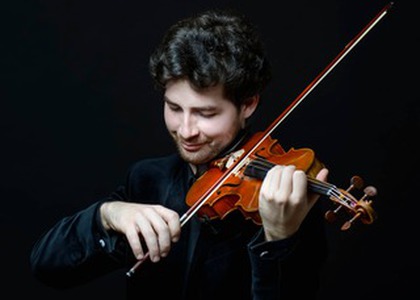 Interview with the violinist Valentin Șerban about the "Scottish night" concert held at the Radio Hall
Monday, 21 February 2022 , ora 10.30

Valentin Șerban, you will hold a symphonic concert on Friday, 18th of February, alongside the National Radio Orchestra. What's the difference between the collaboration with the radio orchestra and the collaboration with other orchestras you had?
First of all, the repertory. The Scottish fantasy by Bruch is rarely being played and of course the collaboration with the National Radio Orchestra can only be fantastic with such good musicians and with such a good conductor. Even yesterday at rehearsals, I was pleased along with Rumon Gamba by a very successful reading, and I'm really looking forward to the concert.

The concert is named Scottish night. In this context, as you mentioned, you will perform the Scottish fantasy by Bruch. Since when is this work part of your repertory?
I learnt it recently, a few months ago, but I wanted to sing it many years ago. Unfortunately, I didn't have the occasion to program it, so I had to wait. But from now on I'll surely sing it often.

The concert's conductor will be Rumon Gamba. Did you choose the theme and program of the night together?
No. I suggested the Scottish fantasy by Bruch and he came up with another suggestion for Mendelssohn. That's how a very nice program and this amazing theme were formed. Somehow they complete each other, even though they're very different, and since Mendelssohn was in Scotland before composing the symphony, maybe he had a much wider vision regarding the symphony. Bruch arrived there only after he wrote the Scottish fantasy. He only had access to multiple books of traditional Scottish songs. But I think the program is varied and captivating enough for the concert on Friday night.

On the concert's poster we can find the mention of "winner of the George Enescu International Tournament" alongside your name. You held many concerts after you won the prize in 2021. What impact did the Enescu Tournament have over your life as a violinist?
I think every prize, for every musician and artist, is a step forward. It's a sign of recognition and that's how it was for me as well - recognition and appreciation, and let's say a very good career propulsion. I have many concerts, much more than before and I'm very grateful to have this chance.
Interview by Maria-Isabela Nica
Translated by Hakan Ugur Geafer,
University of Bucharest, Faculty of Foreign Languages and Literatures, MTTLC, year I
Corrected by Silvia Petrescu