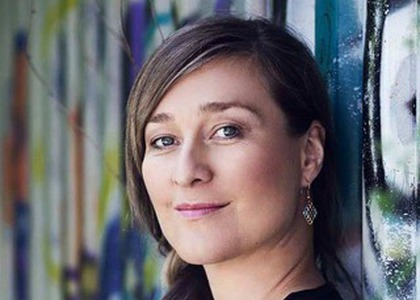 Interview with Claudia van Hasselt about the "Unified Voices of Banat" project
Monday, 28 February 2022 , ora 9.09

"Unified Voices of Banat" is a collective artistic project born out of the desire to bring out the musical influences of Banat, present in the multitude of European cultures brought together through migration. Claudia van Hasselt, we know that you are the initiator of the project. Where did this idea come from?
First of all, I found out from research about my family that my Swabian ancestors emigrated to Banat, but no one knew anything about them back then. I am always interested in biographical approaches in my projects, I started looking for these answers, having as the main point of interest the Banat region.

The research period that took place last year has also resulted in a unique musical audio-video show in which music, movement and technology will be combined with the multiethnic traditions of European cultures in Banat. Which artists will be involved?
We have a totally different team here in Romania, because some of our participants from Berlin could not come to Bucharest now, because they are involved in other projects. In the team we have a violinist, a clarinetist, an electronic music operator, two singers and a group of instrumentalists.

How did you think up this mix of arts in the project? A part of the final result can be seen in Bucharest, on February 26th, at ARCUB. Could you please explain this part in more detail?
What interests me is to always bring together our contemporary times and our history, along with the other knowledge we have inherited from our ancestors around the world, and I believe in a deep connection between all our cultures and that there are certain roots that bind us all together. I am always on the lookout for these hidden traces, for the mysterious parts that lie beneath the obvious. And this is my main goal when developing projects. What also interests me is to be able to make these roots clear to the human ear as well. I come from the contemporary context, with its contemporary music, the latter being often seen as a separate, very hermetic art, to which only a few people have access. But I have a different view of the contemporary music as just the expression of our times today, which I want to always combine with traditional and old styles of music, with archaic sounds and sonorities. In this project we worked together with traditional music performers, with whom we tried to find a common language. This was the main aspect and the main motivation for finding traditional, trans-traditional songs and also composers. In the project, along with me taking part my colleague Amen Feizabadi and also Sabina Ulubeanu from Bucharest.

What exactly will the audience see in these performances?
When I went to Banat, I had this idea or concept, the fact that there are a lot of influences between cultural communities. But when we continued our research there, we realized that these communities are very cohesive because they live their own culture, each member is in his community and connects in the common society through work, through collective values.
Therefore, in the development of the performances we were inspired to make it exactly the same way, hence we delimited all the research and environments with each culture, one after the other. The audience will see a Bulgarian singer, then will meet a Romanian doina performer, then a flutist from Băile Herculane. Every community and every part of it will have an old musical piece, completed by movies and interviews, contemporary compositions, improvisations, more precisely, a mixture of improvisation and composition.
Interview by Maria-Isabela Nica
Translated by Ecaterina Bucovanu,
University of Bucharest, Faculty of Foreign Languages and Literatures, MTTLC, year I
Corrected by Silvia Petrescu