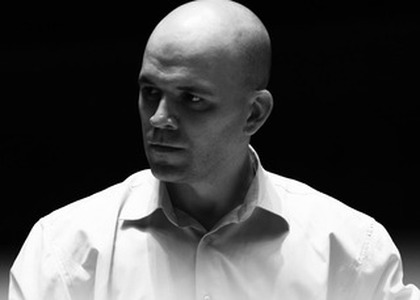 Interview with the manager of the Sibiu Philharmonic, Cristian Lupes
Friday, 4 March 2022 , ora 15.37

The Sibiu State Philharmonic offers its audience a concert that brings the cellist Mircea Marian, the conductor Tiberiu Soare and the actor András Demeter on stage at the Thalia Hall. More about the programme of this concert and the institution's agenda for March from the institution's manager.

Tell us about the three artists on the Thursday evening line-up on the 3th of March. How did this formula come about?
First of all, thank you for promoting us as we have been your fans since the foundation of Radio România Muzical. Every spring, in the first week, as you know, we also celebrate "Mărțișorul", Women's Day... we have a hall here called Thalia and we invite everyone to bring Thalia a flower. We've got our planters, so we're waiting for the petunias and geraniums to come along.
Tomorrow's concert is, of course, dedicated to this week. Mircea Marian, one of Romania's finest cellists today, will delight us with Tchaikovsky's Rococo Variations. So we'll enjoy his personal charm as well as his wonderful cello. And in the second part, together with Tiberiu Soare, who will conduct this concert, András Demeter - the actor, this time - will tell us the almost bipolar story of Peer Gynt. Peer Gynt is that hero we've suggested this week because, after his almost heroic life, he realises that in the end, of course, love wins and he returns to his beautiful Solveig. Therefore, that would be the key through which we invite you to watch our concert.

How was this month's programme designed?
This month's theme of the Philharmonic, as I said, is "A Flower for Thalia". We expect all our audience members to come to the concert with flowers. On the 8th of March, I would joke that we are expecting the ladies in the audience because we will have a clarinetist and pianist on stage: the musicians know Mihai Bădiță and Mihai Murariu - two beautiful young men, not only men of culture, but they are also almost culturalists. So we give them a powerful concert. And on Wednesday, the 9th of March, Diana Jipa - a violinist whom I appreciate very much - and Stefan Doniga offer us a concert with works composed solely by female composers. So these days are filled with female symbols.
Next, on the 10th of March, we have the guest conductor Peter Ash and he will play, together with Ciprian Dancu, Mozart and Sibelius. On the 17th of March, we have David Bui - a young conductor we selected as our guest following the Slobozia conducting competition. He will therefore come and conduct an atypical programme, an Italian programme with works for guitar and piano, with two Italian musicians - Lapo Vannucci and Luca Torrigiani.
The second to last concert of the month brings us Serghei Simakov, a very good young conductor, together with the charismatic Ion Bogdan Ștefănescu. And we have Carl Nielsen's Concerto, which you will be able to see in Bucharest at the Athenaeum, but Simakov also suggests a Beethoven symphony.
And at the end of the month, Cristian Mandeal conducts this month's closing concert and we have Stefan Cazacu as soloist. So we start with a cellist and end with a cellist - we're very symmetrical. We'll hear Schubert's Rosamunde, Elgar's Cello Concerto and Dmitri Shostakovich's 10th Symphony.

Photo credit (Cristian Lupeș): Ilina Schileru
Interview by Petre Fugaciu
Translated by Lenuța Bejenaru,
University of Bucharest, Faculty of Foreign Languages and Literatures, MTTLC, year I
Corrected by Silvia Petrescu