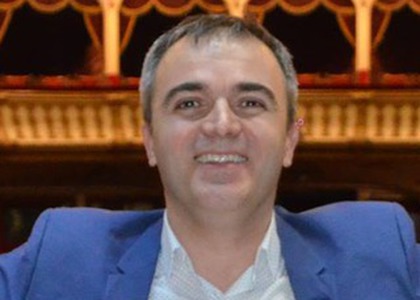 Interview with conductor Adrian Morar
Monday, 7 March 2022 , ora 14.00

The National Radio Orchestra performs on Friday, March 4th, a concert that brings Adrian Morar to the ensemble's conducting desk.
First of all, I have to appreciate that the orchestra is in the studio, the orchestra sounds good and then the program helped us, invited us, stimulated us to solve the problems very quickly and in fact there were no problems, we only found solutions to any impediment, but the background of rehearsals was very good and exceptional feedback. I feel very satisfied with the National Radio Orchestra.
The program started with a feminine address for this period, the first week of March and then I used the pretext of the characters from ballet or opera and I found these suites, the suite from "Coppélia", is something new, the suite from "Swan Lake" which includes and Pas de deux "Odette-Siegfried" and "Carmen". To these suites I added the Bacchanal of "Samson and Delilah" and because the times are as they are and I have to show with the orchestra, my concern and revulsion at what is happening worldwide and colleagues and brothers and friends and all creation Ukrainian, I put together with Tchaikovsky, Bizet, well-known classics and a Ukrainian composer, I know him, but less known to the public, Mykola Lysenko, a friend of Tchaikovsky. Knowing the story of his work, TarasBulba, which Lysenko presented to Tchaikovsky and which he praised at the time, I found it tasteful, grateful for what is happening now with Ukrainian culture, to present this work, The opera "Taras Bulba" by Mykola Lysenko opens.
In 2013 I did a concert in Cluj "Good evening Ukraine", in which I took note of the vast repertoire in which I made a program. I didn't present this work then, I presented it later in other concerts, but then I had several works available for that concert. So now I took them off the shelf. Nikolai Gogol writes a historical short story with the same title, but because it turns out that not all historical data agreed, in any case, the libretto of this short story was the basis of the work written by Mykola Lysenko, a work that dramatically has many disadvantages nowadays. It is sung in Ukraine. Betrayal is the main theme. Taras Bulba kills his own son, one of the two, Andrii, kills him because Andrii loves an enemy, the enemy's daughter. In that case, it was a Polish count who ruled and conquered Ukraine in the Middle Ages. Of course, these things were transformed during the Bolshevik period.
The work has undergone changes. Unfortunately, in essence, and later, after '50, a correction was tried, but like any translation, it is a betrayal. It doesn't go back to Gogol's libretto or Gogol's story and Lysenko's libretto, and that's why, dramatically, there are big differences now, but musically it's a veristic work of Ukraine, but very much based on folklore. and on traditional music, orchestrated and arranged in a late romantic style.
Interview by Petre Fugaciu
Translated by Emilia-Georgiana Călinescu,
University of Bucharest, Faculty of Foreign Languages and Literatures, MTTLC, year II
Corrected by Silvia Petrescu