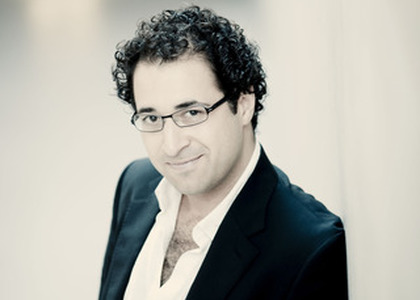 Interview with conductor Leo Hussain
Tuesday, 15 March 2022 , ora 14.08

Friday, the 11th of March, the National Radio Orchestra of Romania will be performing under Leo Hussain's baton. Starting with 7 PM, the musicians will be performing Overture and March from "Turandot" by Carl Maria von Weber, Symphonic Metamorphosis of Themes by Paul Hindemith and Symphonic Dances op.45 by Sergei Rachmaninoff.

What do you think about the way the two pieces combine?
Somehow, us performing them now is a coincidence, because both of the pieces are from amid the Second World War. Rachmaninoff was, obviously, a Russian who emigrated to the United States. And Hindemith was a Jew. Both works were written by people who, in their own way, faced persecution, extermination almost. We chose the program before this terrible war started. Color-wise, both pieces are very dark. They are grotesque and violent, they say a lot of things about war, but, at the same time, both pieces end with a glimmer of hope. When it comes to Rachmaninoff, during the last part there are two themes competing with each other: one of them is "Dies irae" from "Requiem", it's Judgement Day, it has to do with death, it has to do with violence. And the other theme is Rachmaninoff's own theme from the Vespers he wrote - which is about Glory to God and "Hallelujah" - something also mentioned in the "Hallelujah" score. It is frighteningly relevant to perform these works right now. But it is also very powerful, because in all of our pieces from this concert - without trying to be kitsch -good defeats evil in the end. There's a lot of horrible things, but, in the end, there's a message of hope in both works.

The program will begin with a third work.
Yes, it's a piece that arouses curiosity written by Weber, incidental music from the play "Turandot", that later, of course, became much more famous thanks to Puccini who completed the score. But Weber wrote the incidental music from the play. And Hindemith takes this play's themes and uses them as a base for his own work. This is an unusual but charming piece, which is more relevant because we play Hindemith's piece later.

In a way, Rachmaninoff's piece at least, has religious undertones.
Absolutely, absolutely. As I was saying, the main themes are from religious music. We can discuss whether it's religious music or not - I don't think it is; I think it uses themes from religious music, but I don't think the whole piece is liturgical.Yes, this "Hallelujah" at the end feels more like an expression of relief, joy and gratitude for the end of these dark times, than any religious feeling, I think. But, certainly, the themes are based on religious music.

Translated by Cristina-Bianca Ion,
University of Bucharest, Faculty of Foreign Languages and Literatures, MTTLC, year I
Corrected by Silvia Petrescu