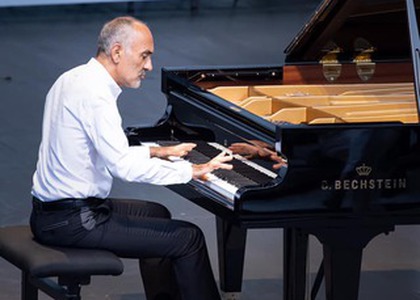 Interview with pianist Abdel Rahman El Bacha about the concert held on the stage of the Romanian Athenaeum
Tuesday, 5 April 2022 , ora 16.15

Pianist Abdel Rahman El Bacha returns to Romania. He performs on the stage of the Romanian Athenaeum with the symphony orchestra and choir of the "George Enescu" Philharmonic conducted by Lubnan Baalbaki.

Mr. Abdel Rahman el Bacha, you are in Bucharest as a guest on the stage of the Romanian Athenaeum, on Thursday and Friday, March 31 and April 1, with the orchestra of the "George Enescu" Philharmonic. How did you receive this invitation?
I received this invitation, of course, with joy, because I sang on the stage of the Romanian Athenaeum. I was also invited to the Enescu Festival in the past, when I also sang in this hall, which seemed very beautiful and ideal in terms of acoustics. The "George Enescu" Philharmonic Orchestra is an ensemble with which it is very pleasant to play, so I am very happy to return.

The concert will be conducted by Lubnan Baalbaki, a conductor with dual citizenship, both Lebanese and Romanian. Will it be your first time collaborating?
No, it's not the first time. We have already collaborated with the Lebanese Philharmonic Orchestra in Lebanon.

You will perform the Concerto in G major for piano and orchestra by Maurice Ravel. The concerto refers to the classical tradition, as the composer tells us, "it was written in the spirit of those composed by Mozart and Saint-SaŽns." How do you approach the work?
I really like this piece, of course it can be related to Mozart, especially in the second movement, the slow movement. It was written between 1931 and 1932 and was a prolific period in which music was composed in a variety of styles by various composers from different countries. A period, in general, with complex music, very difficult to interpret, very difficult to hear sometimes. This piano concerto by Ravel can be related to Mozart's music because it is seemingly simple, but very deep and very melodic, which was very rare at that time in composition.
For the first movement, we feel melodic influences from the Basque Country, a region in southwestern France, which has a cultural background closer to the music of Spain. Thus, we can find a lot of sound colors from Spain. Part I contains a little more fantasy, which means that it offers a certain freedom in interpretation, but also requires rigor, because it is a rhythmic part, with influences from jazz music, which means that the rhythm must be very well sustained. and clear.
The third movement is in the toccata style, very difficult, very fast, very short, but extremely colorful. All three parts are written in a way that puts the orchestra in a special light, alternating very slow passages with very fast ones, which adds to the difficulty of interpretation.

As you said, you have been present in Romania during the "George Enescu" Festival. How do you describe the experience then?
It was a very nice experience for me. I then sang Saint-SaŽns, here, on the stage of the Athenaeum in Bucharest and I was present in another city in Romania, in a recital that included works by George Enescu. I didn't know that much about George Enescu's solo piano music. He is a musician and a composer that I admire a lot, especially since I have sung his works many times and I have even recorded in Japan, the third sonata for piano and violin in Romanian popular character. I believe that this work, George Enescu's Third Sonata for Violin and Piano, is indeed one of the best and most beautiful works for violin and piano written during the twentieth century. It was a beautiful experience to play his music. I also have a special admiration for the Romanian pianists, Dinu Lipatti and, of course, closer to our times, Radu Lupu.
Interview by
Maria Isabela Nica
Translated by Medeea Alexandra Stan,
University of Bucharest, Faculty of Foreign Languages and Literatures, MTTLC, year I
Corrected by Silvia Petrescu