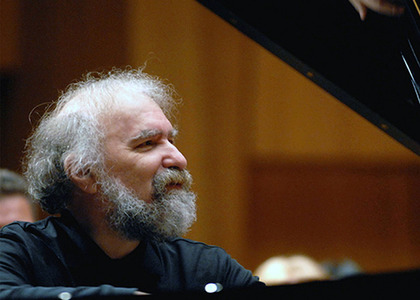 Interview with conductor Cristian Măcelaru about the late pianist Radu Lupu
Tuesday, 3 May 2022 , ora 20.18

Pianist Radu Lupu, one of the great names of the international classical stage, memorable performer of composers such as Beethoven, Brahms, Schubert, Mozart or Schumann, passed away on Sunday, April 17th, at the age of 76. Mr Cristian Măcelaru, if you could say a few words in these moments when the music world has suffered this enormous loss.
Yes, that is true! It was and will remain a sad day because the great pianist Radu Lupu has had an impact on music and on the people who love music, globally speaking, an extraordinarily deep impact. I remember myself as a child listening to his recordings and wanting very much to listen to him live, and then the time came when we even had a few collaborations. Our first collaboration was in Philadelphia, and then at the Concertgebouw, and then at the Gewandhaus Leipzig, and each time he showed kindness and beauty in the way he talked to me, in the way we talked about music, about life, about beautiful things; and especially, he had an extraordinarily developed and beautiful sense of humour, and on Sunday and during the days that have passed since then, I remembered all these beautiful things about him. I also join the global community of musicians or fans who all wish him to rest in peace and may God forgive him!

Although frequently present on the international stages, maybe in some moments more often there than in our country, the pianist Radu Lupu will remain emblematic for the Romanian music world. How should the public remember the pianist Radu Lupu?
I think that the most beautiful way in which the Romanian public can remember Radu Lupu is through the few recordings he left. They really are masterpieces. I remember that the first time when I discovered his works with Brahms's 118-119 opuses, with Brahms's Intermezzos, was a real revelation. It was that moment in my life when I listened to that recording and realized that, in fact, that was how music should be played and presented. The way he understood Brahms's music is an absolute truth. Not to mention Schubert, not to mention the concertos by Beethoven or Mozart, which we performed together. Not to mention also the beautiful Concerto No.3 by Bartok. So, everything that Radu Lupu performed and recorded - I think we can honour Radu Lupu by continuing to learn from what he has left for us, musicians. As for the general public, I think he would appreciate knowing that he is still loved, understood and appreciated for the effort and work he has put in.
Interview by Maria-Isabela Nica
Translated by Ecaterina Bucovanu,
University of Bucharest, Faculty of Foreign Languages and Literatures, MTTLC, year I
Corrected by Silvia Petrescu