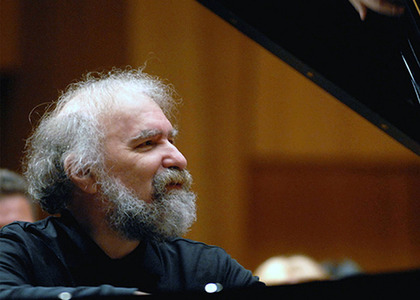 Mihai Constantinescu in an interview about Radu Lupu
Tuesday, 3 May 2022 , ora 20.26

The pianist RaduLupu passed away on Sunday, the 17th of April, at the age of 76. We are talking to Mihai Constantinescu, the former director of "Artextim", about the artist's relationship with the public and his own view on recitals he had given.

How did you meet Radu Lupu?
The first time I met him was in high school. He was my senior by a few years; his mother was the director of the high school that I was studying at. He was attending the music school and that's where we first met. After that, our friendship deepened especially when he started taking part in the "George Enescu" Festival and also because his wife, Delia Bugarin, was a college classmate of my wife and I. We developed a friendship that was first of all a professional one, because I admired him a lot, and all of Radu's performances at the festival were outstanding moments. Radu was a ray of sunshine always present at our festivals. Even though he hadn't performed as much we would've wanted him to, his participation was remarkably appreciated and unforgettable nonetheless. He was a great artist that anyone would've wanted as a friend, and whose advice was sought by many. He gave his advice to anyone who came to him, in fact; he also kept in touch with young people whom he guided. There was something really special about that! He has a place in the big musicians' hall; the famous people that Romania has unfortunately lost.

What was he like back then? In high school andchildhood, I mean.
Very emotional, and he stayed that way. The last concerts we've had together were special, too… he simply went into a trance… He was very nervous. It was very hard for him to pull himself together, but the moment he stepped on stage, next to the piano, he became a God. He would always think that he hadn't given enough to be appreciated the way he was. Regarding this, everyone who got to know him more closely realized that Radu in his direct and personal relationships was different from the Radu that everyone saw.

These last few days, many important voices mentionedhow important the pianist Radu Lupu was. What can you tell us about how the public perceived him?
The last recital that Radu gave at the Athenaeum was an exceptional moment. The Romanian public appreciated him a lot, even if some said that he remained unknown. He may not have been known in other circles, but the academic circles and the expert circles knew who Radu was and they appreciated the talent and the genius which characterized him. He was one of the most important pianists in the world, along with big names that are circulating at the moment.Radu's arrival in any corner of the world was a special occasion that everyone was joyous about. In Romania, as I have alreadytold you, we didn't have the chance to see him attending many festivals and concerts, but when we did, it was an unforgettable celebration.

How did he relate to his own success?
He was very humble. He was very pretentious in what he did and, starting from that, his exigency also determined this state of introversion. He never liked how the concerts turned out. All of the concerts were extraordinary, there was no syncope whatsoever, but he would always say that "there's room for improvement, there's room for improvement". It was difficult for him, especially as of late, when illness struck. I remember listening to him at one point, accompanied by the London Symphony Orchestra, with Sir Colin Davis, in a Brahms concert… when he went on stage, everyone sighed, because his face was contorted in a grimace of pain. He had a kidney stone that bothered him greatly. He went on stage andno one thought that he'd finish Brahms' Concerto No. 1, but he was the one who stole the spotlight, he was the one who conducted the concert, there was no need for Sir Colin Davis, because he was the one whose hands conducted the orchestra and turned everything into an extraordinary Brahms concert.
Interview by Petre Fugaciu
Translated by Cristina-Bianca Ion,
University of Bucharest, Faculty of Foreign Languages and Literatures, MTTLC, year I
Corrected by Silvia Petrescu