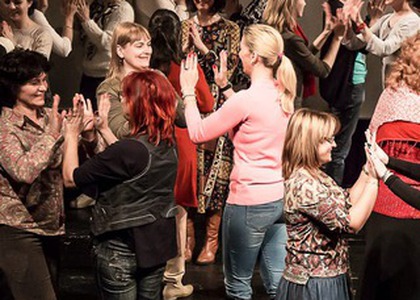 Interview with Oana Cosmovici, president of the "Culture through Music" association
Friday, 6 May 2022 , ora 13.36

Starting in July of this year and until September 2023, the second edition of the courses offered by the Dalcroze Certificate Program in Romania will take place. Details are from Oana Cosmovici, president of the Culture through Music Association.

For our listeners who may not know, can you first explain to us what the Dalcroze Certificate means?
The Dalcroze certificate in Romania is a continuous training program that is addressed to professionals in our country, who work especially in certain fields, those that deal with the general public, the social environment, musicians, actors, dancers, so to speak by those who come from artistic backgrounds and educators, teachers, therapists, social workers, even those who come from the medical field, generally professionals who work with people. It is a program that runs in other countries, not only in Romania. It is developed by the Jacques Dalcroze Institute Geneva. Therefore, the program is established by the Jacques Dalcroze Institute, which also appoints the teachers who come to teach the courses, which has, for its development in Romania, a collaboration, a partnership signed with the Culture through Music Association.

What does this continuing education program entail?
It involves 215 hours of training in Dalcroze active music pedagogy. These courses are divided into three subjects, the basic subjects in the study of the Dalcroze method, namely musical improvisation, solfeggio and rhythm. It aims to hand over these work tools to professionals, who will then apply them in their professional practice. It ends with a certificate. So, those who take part in these 215 course hours, who also pass the exam session and present at the end a dissertation based on their personal experience of applying this method in their profession, receive a diploma which is recognized by the JaquesDalcroze Institute in Geneva and which we are currently striving to accredit in Romania as well.

What is the optimal level of musical knowledge that participants should have?
From the experience of the Dalcroze Certificate in Romania 2021-2022, which is now coming to an end, we realized that indeed, the participants who enter this program must have basic musical knowledge and play well. These two points were emphasized by the director of the program, Mr. Jean Marc Aeschimann. However, this requires you to be able to read a score, not very complex, and, as I told you, to play it right, because Dalcroze uses a lot of musical, vocal-instrumental improvisation and then it is very important for the participants. If they really want to evolve a little faster and really enjoy these courses, they should still have this initial musical level, with which they enter this program. The second edition of 2022-2023 starts with an intensive summer course, which will take place in Brasov between July 25th-29th. This intensive summer course counts in the certificate, those who sign up for and want to do this training until the end are required to access this intensive summer course. However, there is the possibility of punctual participation in this summer course. For those who are curious to see what this method is, if it suits their mode of operation, if they find that it is a very good method and are interested in deepening it, they can then sign up for the rest of the courses in the certificate. But those who do not participate in this intensive summer course can no longer register for the Dalcroze Certificate in Romania, edition 22-23. Therefore, we encourage all those who wish to have a first contact with this method or who would like to deepen this method and to make a decision for their professional training, to come to this summer course between 25th-29th in Brașov. The registration is made on the site dedicated to the dalcroze.ro program. We are also available to talk to those interested, both by phone and email.
Interview by Petre Fugaciu
Translated by Elena Patricia Măroiu,
University of Bucharest, Faculty of Foreign Languages and Literatures, MTTLC, year I
Corrected by Silvia Petrescu