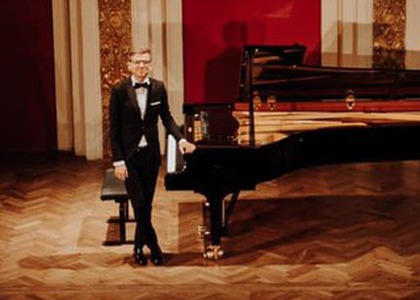 RRM 25 - Interview with pianist Cadmiel Botac
Tuesday, 10 May 2022 , ora 21.07

Cadmiel Botac, I'm pleased to meet you! This year, Radio România Muzical celebrates its 25th anniversary. What does it mean to you?
Of course, it is a great honor and joy to be in a close connection with the Radio România Muzical team, a team that I want to wish "Happy New Year!"at this very beautiful age. What you're doing is very special. The fact that you promote classical music throughout Romania and that practically all Romanians and not only, and those who want to listen to RRM online can do so, which is fantastic!
For me, the relationship with Radio România Muzical I can say is a very special one because we have a beautiful and long history of more than 10 years. I remember that in 2010 I participated in the National Competition "Dinu Lipatti", where I managed to get the first prize, to my joy and surprise and that of my teacher. And since thenit started a beautiful collaboration with Radio România Muzical. Several sessions of special recordings followed in the Radio România studios. "Concertino Prague" took place when I was in high school, in Cluj Napoca, and then I was proposed by Radio România Muzical to represent Romania at this contest, which could not but honor me. I managed to get Honorary Mention at that "Concertino Prague" competition and, of course, there were two weeks in which we were invited to the Czech Republic and held various concerts in this contest. Then, the "Heirs of Musical Romania" Scholarship, an award we received in 2020... and I want to thank again the Radio România Muzical team for the their trust in me by giving me this award. And probably the most significant memory I have is the one from November 2021 and the one from January 2022, when I performed again at the Radio Hall and, after the concert, the release of the debut disc took place. This, for me, is the memory with the greatest meaning and, I could say, probably the most beautiful musical experience so far, of all the musical experiences I have had. I would also like to mention the prize I received at the competition in Brasov, in 2017, the International Piano Competition. If I think about it, following that award was the 2018 recording session, which resulted in the disc released last year. Those 2018 recordings are on their debut disc. And, of course, in addition to these awards that I received, there were also numerous invitations to perform at the Radio Hall with both the National Orchestra and the Radio Chamber Orchestra, which, again, honors me and I can only say a big thank you to the Radio România Muzical team for trusting me and not only me, but also in other young Romanian musicians. Thank you very much for the trust you give us and the experience we gain, it was possible by performing at the Radio Hall, which is a very special one and contributes essentially to our development. Thank you.

Would you also like to send a message to listeners or young people who want such a career?
I could start with young people who want such a career. I would like to wish them, first of all, good luck. I think we're all aware that it takes a lot of work, and sometimes that's not enough. You need people in the back to promote you, who can help you get to certain places, who can open certain doors for you or they can put you in touch with different teachers... these things are sometimes very difficult to achieve. But, nevertheless, I believe that the work and seriousness of a young musician who wants to reach as high aspossible, at some point, will be rewarded, because the talent will be recognized by the musicians around him and will certainly be promoted. That is why I could say that work is very important and, secondly, I think that also the joy of singing, the joy of making music, the joy of sending a message to the audience. This, too, is extremely important. I wish young musicians joy when they are on stage, when they sing! To do what they do with all their heart, with a lot of passion, with a lot of involvement, and then the results will come.

It's a support that Radio România Muzical is giving a lot. The proof is you.
That's right. And many other colleagues and friends of mine who, either participating in the "Heirs of Muzical Romania" Scholarship or in other contexts, were rewarded and promoted, had only to gain from these experiences. That is why I congratulate Radio România Muzical for the initiative to support the young ones. For us, it is a unique opportunity to be listened to and to be promoted. Therefore, I can say that what you do is very special and you contribute to the musical future of Romania. This I can say from my own experience.
I would then like to send a message to the public. I think the most beautiful way to support and encourage the Radio România Muzical team is to listen to their shows, to come to the Radio Hall for concerts and I encourage those who listen to us right now to enjoy classical music, a very special music that transmits everything that is most beautiful,sublime... it's basically a journey through different states, through different feelings. I think classical music also has a healing role, a purifying role, and I hope that every concert will make us better. Therefore, I can only encourage you to listen to Radio România Muzical!
Interview by Octavia Galescu
Translated by Beatrice-Andreea Porumb,
University of Bucharest, Faculty of Foreign Languages and Literatures, MTTLC, year I
Corrected by Silvia Petrescu