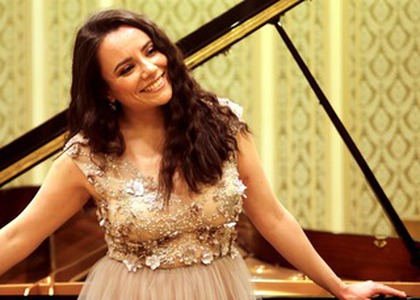 Interview with pianist Anca Săftulescu
Friday, 20 May 2022 , ora 13.51

Tomorrow evening, at the Palace of the Chamber of Commerce and Industry of Bucharest, a new event from the series "Musical Evenings in Bucharest" will take place. Organizer - Lanto Communication.
We find out more information from the pianist Anca Săftulescu, the protagonist of the evening:

On Tuesday evening, you will give a recital that will take place at the Palace of the Chamber of Commerce and Industry of Bucharest. Entitled "Beethoven Contrasts", the program includes four of Beethoven's best-known piano sonatas. How did you think about the theme of this program and what was the selection criterion for these papers?
I always think about it according to the preferences of the soul from a certain period in which I find myself. These are some of the most popular sonatas and are some of my favorites. I gladly rediscovered Beethoven's music. I had a period in which romance appeared mainly in my concert programs. Now I return so greedily to classical music! Beethoven, at this moment in my life, paints my artistic perspective very nicely.
They are sonatas of his youth, composed in the first two periods of Beethoven's composition. We are talking about accomplishments and new dimensions of the classic in op. 13, we are talking about opening to a new world, a new definition of the sonata cycle in op. 26, we talk about momentum and romantic virtuosity in op. 57. And, not coincidentally, we left behind the fantasy and fantasy that we find in that sonata that is known as the Sonata of the Moon.

In the invitation you made to the audience through a video, you were talking about "music just like the sea." How does the evening program relate from this point of view?
It is an invitation with dedication, I could say, and that beautifully outlines the landscape in which I find myself now. The sea inspires me, it is my partner; the sea is what I see when I study. And then, all her tumultuous or quiet aspects, as I described them in this introductory video, I paint in the music I play ... because I see them, because I live them, because I feel them.

For the next period, what projects are you preparing?
It is a period in which I have prepared and are preparing a series of recitals - the Beethoven recital, but in a slightly reduced form, will be resumed on Wednesday evening, at the Suțu Palace. There will be a recital of romantic, original, chamber music - piano, voice and horn - in Brăila, in June ... and many surprises for the next season, this autumn.
Interview by Florica Jalbă
Translated by Elena Patricia Măroiu,
University of Bucharest, Faculty of Foreign Languages and Literatures, MTTLC, year I
Corrected by Silvia Petrescu