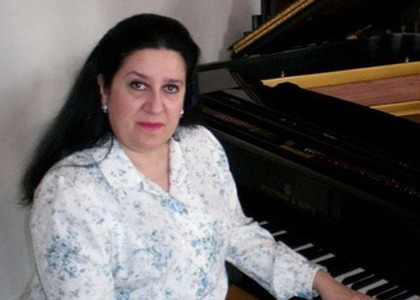 A dialogue with Pianist PhD. Ilinca Dumitrescu, President of "Young Talents" Festival in Râmnicu Vâlcea
Tuesday, 31 May 2022 , ora 16.13

Ms. Ilinca Dumitrescu, Râmnicu Vâlcea Philarmonic is home for you. It bears the name of your father, the great composer and professor Ion Dumitrescu, and your family has roots in this fairytale area..
It's true. My father was born in Oteșani commune, near Horezu, and Horezu, as everybody knows, is 60 km from Râmnicu Vâlcea. I was raised, during the time my father lived, in this atmosphere of love for the lands of Vâlcea, for the people here, for the talent and intelligence of those who lived and are still living here. So, I was always near Vâlcea County and Râmnicu Vâlcea City.

For how many editions have you been president of ''Young Talents'' Festival, a long-lasting festival, having been in existence for 42 years, which bonds organically with city of Râmnicu Vâlcea, and also with the faith of young people who passed the city and built a remarkable career eventually. How did you organize these last editions?
There was no Philharmonic here in the beginning. And this festival filled a cultural emptiness, it brought to these places different personalities of the musical world, of both national and international level. But let me tell you how I have found these last editions.. I wanted, along with the manager of the Philharmonic, whom I appreciate in a genuine way, Mr. Petruț Constantinescu, and I appreciate him because he brought a new insight to Râmnicu Vâlcea. Sowe wanted to bring some new ideas, more original and special. First of all, we wanted this festival to have a stamp. We thought of the children over here, from Râmnicu Vâlcea, who study at ''Victor Giuleanu'' Music High School, and who have always been too modest. They didn't take part in contests. I have been part of many jouries in the country and I saw that the school from Râmnicu Vâlcea did not participate, thing that made me upset. That'swhy I really wanted these children to be preselected, and Petruț Constantinescu, the director, auditioned them before and the best performed as part of the Festival. I hope that slowly but certain, the school in Vâlcea will get closer to the levels of the others. Wherever I have been president as well, both in "Paul Constantinesu" contest and in "Ion Dumitrescu" contest in Bucharest, I wanted Romanian music to be to be present because I noticed that Romanian music begins to disappear from the Philharmonic's Program, which is not normal. Thud, I have nearly enforced let's say, a Romanian song in the program. So, children have already played Romanian works this year, in the Festival. They will remain in the repertoire with these works, out of which some are masterpieces.

So,is there a way in which you have influenced the sung repertoire of this Festival edition?
Yes, of course I did. I am very bound to Romanian music, and I have played Romanian music my whole life, since I were a child, since I have made my first appearance at 6. I played songs by MihailJora and by Paul Constantinescu. I was used to this music, it was the music of my years, I have played even vanguard music back then. Children must get used to our music. It's nice that they sing Chopin, Mozart and Beethoven, but they can also sing classical Romanian music or from early Romanticism, CiprianPorumbescu, George Ștefănescu or their contemporaries, but out of our nowadays' music as well. After all, we must guide them, we must influence them. I am glad that here at Râmnicu Vâlcea Philharmonic there is much vitality, starting from the institute's aspect. In fact, there was a hall which belonged toLahovari High School which was then transformed before the '89s cinema. It was given to the Philharmonic. Now it is a real concert hall, which makes me glad.

It is impressive that young people around the country attend, some of them maybe didn't have the opportunity to dream that they sing on a Philharmonic stage, and especially with orchestra. I know that you are very bounded with these young people, how did you managed to get them here?
I have listened to some of them during other contests or singing at different events. I met them personally and I recommended them. Some of them are part of "Remember Enescu" Cultural Foundation. It is yet important that they are selected, they are ones of the best in the country in this moment, and they have already passed selection and preselection, bigger or smaller concerts, so they are entirely deserving to have a place in "Young Talents" Festival.

You got close to young people through the fact that you offer some presents. Every time after their performance, they get off the stage, make a short photo session and get a diploma and a small bag with surprises..
These are the Philharmonic's gifts, but I contributed to the idea of giving the something. In terms of presents, I could add that every time I can I offer the partitures. A part of them I have edited in the last year, partitures with works byMihail Jora, by Ion Dumitrescu, my father, then different books about music in my editions, and I am always glad that children are interested in my booklets.
Laura Ana Mânzat
Translated by Mara-Sabina Rolea,
University of Bucharest, Faculty of Foreign Languages and Literatures, MTTLC, year I
Corrected by Silvia Petrescu