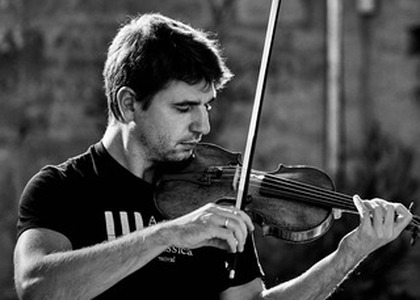 Interview with violinist Vlad Stănculeasa
Monday, 6 June 2022 , ora 8.23

Mr. Vlad Stănculeasa, you will be the soloist of the concerts of Thursday and Friday, May 26th and 27th, held by the "George Enescu" Philharmonic Orchestra. You have a rich musical life as a soloist and concertmaster, but also in chamber ensembles throughout Europe, Asia and South America. Before we talk about the programme, what are your thoughts upon returning to perform at home, on the stage of the Romanian Athenaeum?
I am excited to have the opportunity to get to know the conductor Leo Hussain and to work again with the "George Enescu" Philharmonic. Another pleasure for me is to offer this masterclass for which I was invited by the University of Music in Bucharest; a masterclass for violin, today and tomorrow, at the Conservatory, about which I am very happy and I am looking forward to meeting the new generation of the violin school.

You will perform in Bucharest the Concerto no. 4 in D major for violin and orchestra by Mozart. This season, you approach Brahms, Tchaikovsky and other composers on various stages. How did you choose this piece for the concerts in Bucharest?
It was agreed on with the conductor and the administration of the "George Enescu" Philharmonic. Conductor Leo Hussain very much wanted the programme we are proposing to have a cohesive shape. Somehow, along with the Divertimento for strings that they will perform before the Concerto by Mozart, along with the Symphony by Sibelius that he really wanted to present to the Bucharest audience and, of course, to the orchestra … we have agreed that the Mozart-Sibelius combination is a very good one and that it also respects the previous and the coming programmes in the Philharmonic season.

You performed the same concerto by Mozart on April 23rd too, together with the Benevento Symphony Orchestra. How does the violinist Vlad Stănculeasa approach Mozart's music?
This is a very good question because Mozart is a huge challenge for any performer, any instrumentalist. Leaving aside the technical difficulties that are so delicate and that require a special technique compared to the rest of the repertoire, the performer must not forget in the end what this technique is all about and to connect, to try to bring out all the musical elements that Mozart leaves almost hidden inside the score. Because of this, Mozart is one of the most difficult composers to perform, there also being the necessity for a very cameral discourse of the soloist in relationship with the orchestra. And that means that every one of us who have to perform this piece need to be involved in the music, to be connected to the bigger shape, to the shape of a phrase, to the shape of a whole part, to the shape of an entire concert.
An enormous challenge, very delicate technically speaking and, of course, I repeat, to put this delicate technique in the service of music is a rather important and quite difficult mission.

Photo credit: Ettore Causa
Interview by Maria-Isabela Nica
Translated by Ecaterina Bucovanu,
University of Bucharest, Faculty of Foreign Languages and Literatures, MTTLC, year I
Corrected by Silvia Petrescu