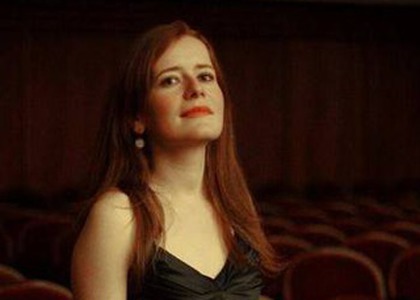 Interview with pianist Aurelia Visovan
Monday, 6 June 2022 , ora 8.25

Aurelia Visovan, on Friday, at Colegiul Academic in Cluj, you will perform Concerto No. 2 in E major, Op. 59 for piano and orchestra by Moritz Moszkowski. This Romantic piece composed in 1998 is rarely performed on stages within our country. How did you discover this composition?
I have known this work for many years. I've always wanted to perform it, even though I knew that it is rarely performed in our country. I know of only one recording from a Romanian stage - that of Raluca Știrbăț at Romanian Athenaeum. Therefore, I don't know if, apart from this instance, the concerto has ever been performed. So I really wanted to bring it to the Romanian stages and perform it in Cluj, because to me it seems a work of great value indeed.

What are the characteristics of performing this concerto?
It is a work of great virtuosity. It is indeed very much written for piano, but it is also very difficult in terms of length. It is a concerto of grand proportions, having four parts and being about 40 minutes long, so it is one of the great concertos for piano and orchestra. It also requires a very good endurance on stage, as it has many passages which require great virtuosity. However, it is also very well written from an orchestral perspective. Hence, the orchestration is very good, having a very well balanced dialogue between the piano and the orchestra. I can say that it does not resemble the two Chopin concertos, where the piano is in the foreground and the orchestra accompanies at all times, instead it is a real dialogue. I am convinced that we will enjoy performing it, both me and the orchestra.

Is this concert your first collaboration with conductor Paul Mann?
Yes, this is our first collaboration. This event is, in fact, the resumption of another concert, which was unfortunately canceled. It was scheduled for January, a very short while before concerts resumed. I was to perform the same Moszkowski concerto, with the same orchestra, but with a different conductor. The reason for canceling the event was the conductor's inability to honor the Philharmonic's invitation. I'm so glad we have this great alternative to the event!
Interview by Ana Sireteanu
Translated by Ioana Diana Sandu,
University of Bucharest, Faculty of Foreign Languages and Literatures, MTTLC, year I
Corrected by Silvia Petrescu