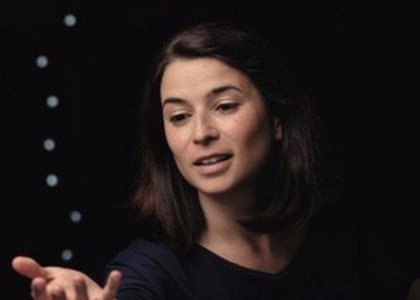 RRM 25 – Interview with pianist Mara Dobrescu
Thursday, 9 June 2022 , ora 9.51

Mara Dobrescu, you're one of the important names who left Romania, but you stayed here both with your soul and the activities regarding Radio România Muzical. I would like you to remember, what was your first collaboration with our institution?
Thank you for the invitation. Radio România Muzical always supported me and a great deal of the concerts I have performed in the country were live broadcasted. And through the events I have performed abroad, thanks to these interviews, the Romanian audience was able to be with me and follow my evolution, even starting from when I left the country between 1996-1997 and began a career outside the country. Radio România Muzical was by my side since the beginning.

We remember your presence in the international jury which evaluated the signed-up contestants in our national piano contest Lipatti Days, in 2010. I know that you are inclined towards Dinu Lipatti's personality. How was it like to be a member of the jury in the contest which bore his name?
I was very honoured to be part of this jury, especially since my presence in juries is so rare because of the rehearsals' and concerts' planning. So, usually I am not available, but of course I have whole-heartedly accepted, and yes, Lipatti will always stay in my mind. The portrait of the wonderful pianist is on my piano, and it follows my thoughts, even in the pedagogy I offer my pupils. I always talk about who Dinu Lipatti was and about the importance of digitations in partitures. Yes, I was very proud to be able to take part in this and from there on, of course, I follow with great interest all events regarding Dinu Lipatti.

In 2018 you closed the Inheritance of the Romanian Music Festival with a recital in which, I quote from our chronic written by our colleague Ana Diaconu: ''Mara Diaconu invited her audience through a delightful journey to walk with her in the oneiric nocturnal universe of music signed by Debussy, Chopin, Enescu and Dinu Lipatti, and it also includes the record which the pianist released a few months ago in Paris, Soileil de Nuit''. How do you remember that wonderful evening was during the Inheritance of the Romanian Music Festival. You had an audience that was both warm and very observant regarding all music nuances of this very special music.
It stayed as a unique and very pleasant memory and I must thank again Mrs. Cristina Comandașu who gave me this opportunity because indeed I had just published this new album Soleil de Nuit. Whenever I come home, I want to share with the public the chosen program and I always choose something which is very close to the soul. Perhaps this isn't always possible in other festivals and I have very much enjoyed sharing with my home audience this program made by me through the years, a very personal program, I may say, in which I wanted to bring some light and contemporary music through Philippe Hersant's compositions, with which I maintain a very beautiful music connection. Even on my future record which I will soon present you and which is called Le fruit de silence, The Fruit of the Silence, having in mind what we went through in this pandemic, this silence which took over, but which brought us the search of a certain spirituality. Anyway, in my case and on this record which will be launched in September next year. Philippe Hersant is once again present, along with works of Enescu, and of course Dinu Lipatti's. This program which is a part of Inheritance of the Romanian Music Festival was indeed a unique moment. I enjoyed making even the slightest surprise and perform together with Florian Mitrea a work of two pianos written by George Enescu, a work which is not usually performed and yes, it remained a unique moment for me and for the public.

You are based in France, I guess you can't listen to Radio Romania Musical, but you are probably listening to Radio France Musique. I would like to ask you, how do you see the role of a classical music station in the current cultural landscape?
It is very important and I really want to tell you that I also listen to Radio România Musical, thanks to the online, as I may say, so on the internet and that makes me very happy, because I noticed and watched with great pleasure and even pride, the organized events by Radio Romania Musical and above all, these programs that are designed for young people, for children, for tomorrow's audience, as I may say, and this is absolutely essential. I was very proud to see that from 2019, Radio România Musical is part of the prestigious ICMA-International Classical Music Awards jury and this is an extra step. It is part ofall these radio stations from all over the world, as well as France Musique, in fact, which highlight artists from all over the world and yes, thanks to Radio România Musical and Romanian artists it can enter this circle, as in that of the European Union radio.

Absolutely. Before we end, I would like to talk a little bit about your projects. You have already said that you are preparing a new record. What else is happening in Mara Dobrescu's agenda, especially now, when it seems that we are easily, easily getting rid of the pandemic that has plagued us in recent years?
Recently I was able to travel again and here are the steps that took me to the World's Fair in Dubai. I was able to perform on Dubai Opera Stage, in an evening organized by the Cartier Foundation. This concert was given on Mezzo. It was a concert of the K ensemble, conducted by Simone Menezes, an ensemble of which I have been part of for two years, and it was wonderful to see all these initiatives created by women highlighted by the Cartier Foundation. Now I am preparing for the next concerts, for a Piano Festival that will be in the summer, of course the promotion of my album that will be released in the fall and with the 3, 4.5 concerts that are already on the tour list, thanks to this new album, Le fruit de silence. The list is very long, but I don't want to bore my listeners now. I will keep you updated anyway and this makes me very happy that I have always been able to express myself and I have been able to keep the audience informed with my new projects thanks to the formidable team from Radio România Muzical.
Interview by Monica Isăcescu
Translated by Mara-Sabina Rolea,
University of Bucharest, Faculty of Foreign Languages and Literatures, MTTLC, year I
Corrected by Silvia Petrescu