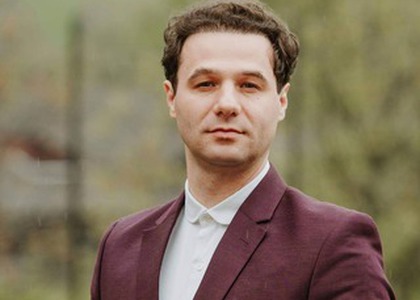 RRM in Iași - Interview with tenor Andrei Fermesanu, provisional manager of National Romanian Opera in Iași
Tuesday, 14 June 2022 , ora 15.53

The National Audiovisual Council approved granting FM frequency so that Radio România Muzical can be received by the listeners from Iași. Thus, after solving the technical aspects, starting with 2023, you will be able to hear us from Iași. How does this news sound to you?
It is excellent news, because you're the only radio broadcast which concentrates its activity on Classical music - chamber music, symphonic music, opera music, operetta, jazz - and it is a good thing for all your listeners that they can have contact with you from Iași through radio frequencies.

How did you manage to watch our broadcasting shows through our site, for the moment, and how do you evaluate the content of our Radio România Muzical broadcasting shows? As you said, we are the only ones exclusively dedicated to Classical Music and we also have professional musicians in our team. What do you think the impact will be for our listeners from Iași, not especially the professional ones?
I believe that your listeners' number will increase because the offer is diverse. You have these important events at a national level which are interconnected with what happens in the musical and artistic life at an international level and having access to such an opening formula I am sure that many listeners will connect with a general plenary music context. We are with you, because you're the most important vector from this radio area of promoting culture and Classical music.
Interview by Florica Jalbă
Translated by Mara-Sabina Rolea,
University of Bucharest, Faculty of Foreign Languages and Literatures, MTTLC, year I
Corrected by Silvia Petrescu