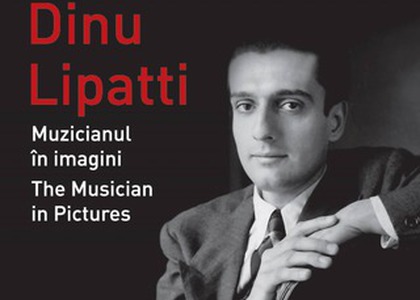 Interview with musicologist Valentina Sandu Dediu
Monday, 20 June 2022 , ora 14.04

The volume "DinuLipatti - the musician in pictures", by our colleagues Monica Isăcescu and Ștefan Costache and by the researchers Orlando Murrin and mark Ainley will be launched at the Bookfest International Book Fair on June 1st 2022. The musicologist Valentina Sandu-Dediu told us more about the importance of this volume in the following interview.

"DinuLipatti - the musician in pictures" is the volume's title which will be launched on the 1st of June at the Bookfest International Book Fair. How are each of the four author's parts blending in the volume?
The four authors also show the affiliation to Romanian and international music of the musician Dinu Lipatti because there are two Romanians, colleagues of yours from the radio - Monica Isăcescu and Ștefan Costache. They deal with the unveiling of unique documents and pictures from Dinu Lipatti's childhood and years spent in Paris. Then, the other two authors are a journalist - Murrin and the famous Lipatti's records detective - Mark Ainley, who is knows by the romanian public. Orlando Murrin refers to the wonderful relationship between Lipatti and Madeleine Lipatti and offers, again, unique documents received from Madeleine Lipatti's descendants. And Mark Ainley suggests what he discovered over the past decades, namely unique recordings of Dinu Lipatti, reaching out contemporaries and telling us that he still hopes that other recordings to be discovered that we don't know about.

As you said, the volume includes chapters about his years of professional growth, the experience in Paris, but also about the unknown recordings of Lipatti obtaines from laborious research into his private collections. How does this volume the body of information that we already know about Lipatti?
It's clear that these are unpublished documents. The authors refer to previous research and especially to that well-known Bărcăuanu-Tănăsescu volume, Lipatti's Monograph, and it also refers to other monographies and researches. It's clear that it comes with an unique perspective. I even think that he could have pointed out in a less modest introduction or preface that these pages are original. They complete with visual information - the volume also has a remarkable graphic quality - but also with original musical information released so far about Lipatti.
Interview by Alexandra Scumpu
Translated by Ioana Negrea,
University of Bucharest, Faculty of Foreign Languages and Literatures, MTTLC, year I
Corrected by Silvia Petrescu