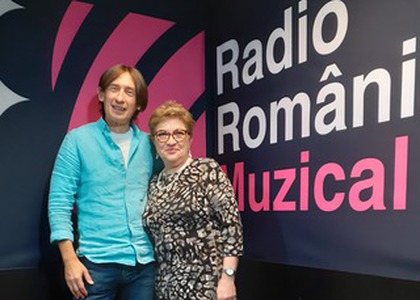 Liliana Staicu, director of Radio România Orchestras and Choirs, week's guest at Perpetuum mobile, in a discussion with Gabriel Marica
Monday, 17 October 2022 , ora 10.35

My today's guest is the director of Radio România Orchestras and Choirs, who is, at the same time, a well-known voice of Radio România Muzical.
Welcome back to the studio, Liliana Staicu, but this time as a guest!
Glad to see you, Gabi! Thank you very much for your invitation. Good evening, listeners of Radio România Muzical!

We won't talk about your broadcasts here at Radio România Muzical, however, it could be a very interesting matter, but we will adress the new session from Sala Radio - session which is going to start on Friday, 14th of October. First of all, let's talk about the opening concert.
It is an interesting subject because I think it is the first time after many years that a very large orchestra reappears on the stage in order to deliver an emblematic piece of the 20th century, namely Sacre du printemps by Stravinski - a concert that has cellist Răzvan Suma as a soloist in the Dvorak concert. Răzvan is one of the concert performer soloists of the Radio, together with Alexandru Tomescu and Horia Mihail who can be listened to as well in this first part of the session. At conductor's rostrum there is Rumon Gamba. I said it and I have to say it again that I thank him very much because even though I have announced him very late on Saturday night, on Sunday afternoon he was in Bucharest in order to take over this concert because the scheduled conductor for the opening session couldn't make it since he had some medical reasons. Thus, the orchestra is practicing now and I hope... in fact I'm sure that it will be an absolutely wonderful concert and I invite everyone on Friday at Sala Radio.

Sacre du printemps, as far as I know, hasn't been played at Sala Radio since 2015. Back then, Radio National Orchestra was conducted by Gheorghe Costin. Gheorghe Costin who will also be present in this session at Sala Radio in a special concert of which I would like you to tell us more.
Indeed, Gheorghe Costin will also be available on the 28th of October in the concert dedicated to Radio România Day. That evening will be special because pianist Raluca Știrbăț will be the soloist who will perform Pascal Bentoiu's work - The first piano and orchestra concert by Pascal Bentoiu. It is a concert we have postponed since 2020. In fact, it was scheduled to take place at that time, but we all know that there have been almost 2 years during which things couldn't evolve on a normal path. Now I have returned to this work and I am glad we can present it after a long time in a concert at Sala Radio.

Incidentally, by the way, let's tell our listeners, we won't have any kind of restrictions, is it?
This time we won' thave any kind of restrictions. The hall is at full capacity, tickets can be aquired online on iabilet.ro or from Sala Radio's ticket office. And, of course, as usual, the concerts will be available live on Radio România Muzical and Radio România Cultural.

The first part of this session is available online on Orchestras' and Choirs' Radio.
Yes, indeed, until December.

Of course, every concert is important and unique in its own way, however, can you tell usw hich are the points of interest in this first part of the session?
Apart from the opening with the National Orchestra, but also the Radio Chamber Orchestra's concert next Wednesday, with Cristian Mandeal at the rostrum and Valentin Șerban - as we know, the winner of the 2020 edition of the Enescu Competition - in the Beethoven Concert.
Other important points of the season would be the presence of Alexandra Silocea in Bucharest, in a concert with the Radio Chamber Orchestra, in Schumann's superb concert. Also, the other long-scheduled appearance of Rumon Gamba, in season with Musorgsky's Pictures at an Exhibition. The presence of Christian Badea, on December 9th, at the rostrum of the National Radio Orchestra.
There would be a lot to say here. I would like to dwell, very briefly, on the Radio Big Band, which, as of this season, has a new face because the baton has been handed over. Ionel Tudor ended his activity at the rostrum of the Radio Big Band, and this ensemble will be led starting this season by Simona Strungaru - a well-known pianist, conductor, orchestrator, composer... a very active person in the Romanian musical space. I am very glad that she got this job and will lead the Radio Big Band. There will be some very interesting concerts starting with the one on October 27th - the first concert with soloist George Natsis, The Magic of Chick Corea, a concert dedicated to the memory of Chick Corea. It is the first time that we present such a repertoire at Sala Radio. Also, the next concert, featuring Alice Francis as soloist. She is a vocalist from Germany, but who was born in Timișoara. It's very special and I hope the audience will notice that. Berti Barbera returns with the album that will be released on this occasion, at the end of November - an album also recorded with the Radio Big Band, 50 and swinging. And... the Christmas concert, with soloist Adrian Nour, at the beginning of December.
These would be some of the important points. I will obviously not forget to mention the Popular Music Orchestra. This Sunday - the first concert In memoriam Maria Lătărețu; also with a CD release, because it is the 50th anniversary of the death of the famous soloist.
And... the Children's Choir concert, in December - Christmas concert. The Academic Choir also returns to the stage in its entirety. I think the two ensembles were the most widowed in terms of appearances during this long pandemic period.
And, I would say a few more things about the December concerts. Lots of Christmas themed concerts! The last two, I think, are quite special. The last concert of the Radio Chamber Orchestra, soloist and conductor - David Grimal, in a full Mendelssohn program... and the one on December 23rd with the National Radio Orchestra and the Radio Big Band with Teo Gheorghiu - soloist, a pianist who, if I'm not mistaken, is coming to Romania for the first time, at Sala Radio for sure, in Rhapsody in blue by Gershwin. And the two reunited ensembles will perform under the baton of Sasha Goetzelone of the superb symphonies written by Wynton Marsalis - a famous jazzman who, as we know, bent over the sheet music several times. Swing Symphony is the work we propose to the public on December 23rd.

I would say, a refreshment of repertorire in this session, with many interesting and new things!
Yes, indeed, I tried to make it as diverse as possible in all aspects - both interpretatively and repertory. There are things that, here, we are approaching for the first time, such as this Marsalis symphony, which will be presented for the first time in Romania. It was also performed by the Radio Big Band in February 2020, also with Sasha Goetzel at the rostrum, in Istanbul, together with the Borusan Symphony Orchestra, and we thought it was time to bring it to Romania as well so that the audience could enjoy this beautiful symphony.

We still can't talk about 2023, but we have to talk about one thing. Namely, there will be a new edition of the "George Enescu" International Festival. I want to know and we all want to know if our bands are invited, as always, to participate.
Yes. Certainly, our bands will be in the program of the Enescu Festival. This program is to be announced towards the end of November. Then we will all know what this first edition of the Enescu Festival is like without Mihai Constantinescu as executive director. But I'm sure Artexim will continue to do as well as it has so far.

...and with Cristian Măcelaru...
And with Cristian Măcelaru - artistic director. Obviously, we hope that we will see Cristian Măcelaru in our season as well, in May. we still need a little confirmation, but I'm sure he will be present on this stage as well.

Here's what you revealed to us about what will happen next year, in the new season here, at Sala Radio!
Liliana Staicu, I wish you and your colleagues from Radio Romania Orchestras and Choirs much success! May in the new season you have more audience and this audience that comes to take part in some truly memorable events.
Thank you very much!
Interview by Gabriel Marica
Translated by Mara-Sabina Rolea,
University of Bucharest, Faculty of Foreign Languages and Literatures, MTTLC, year II
Corrected by Silvia Petrescu