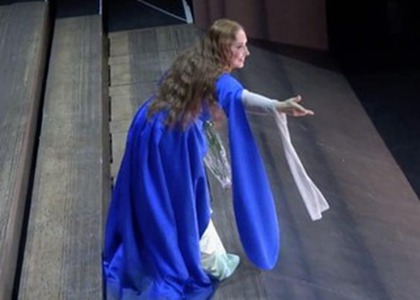 Interview with soprano Elena Mosuc
Thursday, 20 October 2022 , ora 10.12

Elena Mosuc, first of all, I want to the most sincere and enthusiastic congratulations! Your performance in Verdi's "The Troubadour" brought back to the stage of the Zurich Opera the art of vocal performance in all that it has more thoroughness and impressiveness, which was not without reward from the audience, at least, - a good audience connoisseur of opera, who you haven't met in, in fact, 7 years. What were the connotations of returning to the stage that established you in front of the audience in Zurich?
Bearing in mind that everyone knew that I really wanted to return to the Zurich Opera, the opera that raised me, consecrated me, the opera in which I made a very large and very solid repertoire,the emotion was pure.But not only for me, but also for those who have known me for 31 years. In 1991, I debuted on this stage in a coloratoure role - it's true, a dramatic coloratoure, "The Queen of the Night" - and now I've become Leonora from "The Troubadour", a role that, I suspect, few expected from me; all being accustomed to Gilda, Traviata, Lucia, the Puritans, Zerbinetta - roles that I played on all the big stages of the world.

What were the challenges of this new part that you tackled?
Leonora is a role that I already debuted 4 years ago, in 2018, in Belgrade. But now, when I resumed, having more than two weeks of rehearsals, working hard every scene, every moment, I had the opportunity to get to know the role much better, to dose it better, to grow it; and this, to be honest, happened more in the shows. I have already had 5 shows and in each show I grew, I got to know Leonora much better and I am still experiencing it. We have another show on Sunday night.
It's a different size and, as you noted, a different pattern. It's a role where, of course, I use the same technique, but the role demands more and I had to find when I studied it the way in which to play the dramatic moments as everyone expects. Of course I have my voice, I've never tried to imitate someone else, but I think I managed to play the dramatic moments very well. Of course, in moments of pure bel canto they are at home: acute, supra-acute. Normally, we have a lot of bel canto in Verdi, especially in the early operas of which "Trovatore" is also a part, but it is another dimension. I don't have as much freedom as in purely belcantist roles. If I had the opportunity now, in the next period, to have a series of shows, it would be exceptional, but unfortunately, I have to start studying another role. But, it was this moment of coming home - the Zurich Opera House being "home" for me. It was an emotional moment not only for me, but also for those around me, because those who know me - starting with the doorman, all the directors, including the general director, those in the choir, in the orchestra - all welcomed me with open arms and I simply felt loved.

How did you feel though in Adele Thomas' Welsh production?
All the opera's action takes place on the steps of a huge, empty, gray staircase... Here, in Zurich, I found myself in a rather modern production in which, if you noticed, I, Leonora, am the most normal . We also had beautiful costumes, but anyway...she wanted to take the ridiculousness out of the opera. And this was seen from the beginning to the end.

Do you generally mind performing in such setups or do you adapt easily and try to build your part in any conditions?
Of course, I had to adapt in this production. This staircase suits well and I think that if more work had been done with us, something beautiful would have been achieved. But for us, it was quite tiring to walk around in complexes and areas on this staircase. It consumes a little of your energy, and we should save this energy for the musical part more.

Leonora is from a different category than the Verdi's ones you have addressed so far, i.e. Violetta Valery, Luisa Miller...
Although Luisa Miller and Giselda in "The Lombards", the last performed, have a certain more developed dramatic tone than Gilda and Traviata and they prepared me, let's say, very well for this Leonora.

Are Verdi's roles your new repertoire goal?
Yes, I think this is my future and I am considering debuting other roles - Odabella from"Attila" (I will make this debut in Belgrade) and I am even considering Aida. Now, after seeing how I felt in Leonora, I think that in a year, two, three... I will be trying, why not?! Technically, I don't force it, I see how I feel and appreciate if I can sing on stage or not.

And one last question: can Elena Mosuc live without an opera, without a stage?
No, I can't. I am, I feel, I know that I was born for the stage. God gave me such a beautiful voice, I have to offer it to the audience.

So your three-decade career up to this point is in full swing and will continue, right?
You know me very well, I'm not a singer who loves routine, that's why I approach new roles, I want to debut, I want to learn constantly.
Interview by Luminița Arvunescu
Translated by Beatrice Porumb,
University of Bucharest, Faculty of Foreign Languages and Literatures, MTTLC, year II
Corrected by Silvia Petrescu