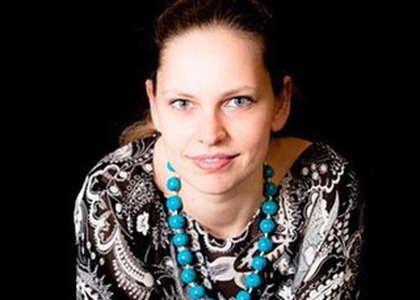 Interview with Simona Strungaru, the new Big Band Radio conductor
Monday, 31 October 2022 , ora 10.12

Everybody is extremely happy and I am pleased to discover great potential in all the Big Band members; many of them perform as soloists, improvisers and at this unique concert loved by so many, we remember the great Chick Corea, and everybody comes with open hearts because his music meant and still means a lot to many of them.
We have prepared seven Big Band songs, lead by well-known conductors, such as Mike Tomaro, and two songs that maestro George Natsis will conduct: one a trio, the other one a sextet. We've chosen some of his famous pieces of work which established his reputation in the jazz and latin jazz world, more exactly "Spain," "Fiesta," "Windows," "Señor Mouse." These are valuable works for both the players and the listeners.

What does Chick Corea mean to this generation of artists?
Freedom, development, progress. He was a complex artist, who played many diverse musical genres and I am sure many generations of artists learned from him, especially now, when there is no wish to tell musical styles apart one from the other or when there is much mixing of styles, as artists want to cross the labeling lines they receive as part of their development. Chick Corea is an extraordinary example of an artist who tried everything and masterpiece works came out of his hands.
I am deeply honored to conduct this prestigious ensemble, as together we are preparing unique, exciting plans for the future. What I can disclose right now is that we will have two concerts in November: one of them with guests from Germany, more exactly soloist Alice Francis and her band. There will be an electro swing concert, with arrangements for Big Band, signed by Florian Radu, who is also a member of the ensemble. The second concert will take place on November 24th, when we will launch Berti Barbera's record made in collaboration with Big Band, who recorded 50 and swinging last year, followed by two concerts in December: one centered on the Christmas theme (with well-known works that the public is fond of) and Swing Symphony by Marsalis on December 23rd, when Big Band Radio will play along the Radio National Orchestra. We have an elaborate and diverse agenda, which we enjoy and which does credit to us.
Interview by Petre Fugaciu
Translated by Denisa Stanciu,
University of Bucharest, Faculty of Foreign Languages and Literatures, MTTLC, year I
Corrected by Silvia Petrescu