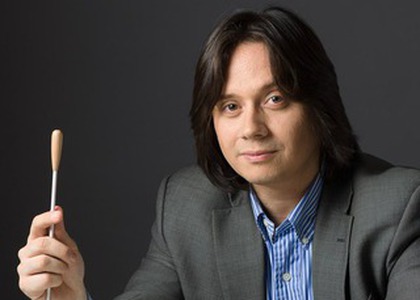 Interview with conductor Gabriel Bebeșelea
Monday, 14 November 2022 , ora 11.14

Mr. Gabriel Bebeșelea, you will return to the conductor's podium of the George Enescu Philharmonic Orchestra this week. Please tell us how you chose the repertoire for this concert?
Above all, I am happy to meet again my colleagues from the George Enescu Philharmonic in the new session. This is our first concert together in the new season and it is a special concert in terms of repertoire, because the theme is "rhapsody" - rhapsody seen from many different and contrasting perspectives. The concert opens with Rhapsody on Moldavian themes by Mojsze Weinberg, an extraordinary composer, who is increasingly appearing in concert programmes and whose compositions are being performed by the world's great orchestras. Indeed, this Rhapsody on Moldvian themes has a surprise for our audience in the Romanian Athenaeum, namely a vivid quotation from George Enescu's Rhapsody I. We also have another rhapsody on the programme, but in a completely different dimension and atmosphere. It is the first rhapsody for clarinet by Claude Debussy performed by the extraordinary Valentin Uryupin, with whom we will also perform Alexander Rosenblatt's Carmen Fantasy, a work based on George Bizet's famous opera, but in a style that leans strongly towards jazz. This too can be said to be rhapsodic by nature, yet a different facet of the genre. The second part brings two much loved and sought after works, Maurice Ravel's Spanish Rhapsody and the famous Bolero, continuing this idea of rhapsody and dance intertwined in a more contrasting way.

What is your affinity for Weinberg's music?
I discovered Weinberg through his flute concerts and as I was looking through the catalogue of his compositions I noticed this rhapsody which, I admit, I wasn't familiar with five or six years ago. I have conducted it several times and everywhere it has been very successful. It will be the first time I have performed it in Bucharest and I am very happy that we have managed to program it in this cycle alongside Debussy and Ravel.

Is this your first time playing Claude Debussy's Rhapsody No. 1 for Clarinet and Orchestra and your first time meeting Valentin Uryupin?
It's not the first time, I have collaborated with Valentin Uryupin in various roles. What is very interesting about him is that he is a well-rounded musician. He is one of the most important clarinetists of our time, but he is also one of the most important conductors, so we have collaborated from several perspectives. As for the Debussy Rhapsody, we have performed it several times in several cities, with several European orchestras, the last time was with Nicolas Baldeyrou, one of the most famous clarinetists who plays this rhapsody and who also recorded it with Myung-Whun Chung.

What was the orchestra's response to the contact with this possibly less known repertoire?
First of all, as I said it is highly contrasting, so it will show quite a lot of facets of the orchestra and quite a lot of instances in which the orchestra will demonstrate, on the one hand, individual virtuosity, such as in the Bolero, but also general orchestral virtuosity in Weinberg's composition and in the Spanish Rhapsody. It's also a programme that requires a great deal of attention, because it's very filigree, very carefully written and embroidered in terms of composition. It is, therefore, a very offering programme, in which the orchestra has plenty to show and how to perform.
Interview by Ana Sireteanu
Translated by Cosmina Florentina Ciobanu,
University of Bucharest, Faculty of Foreign Languages and Literatures, MTTLC, year I
Corrected by Silvia Petrescu