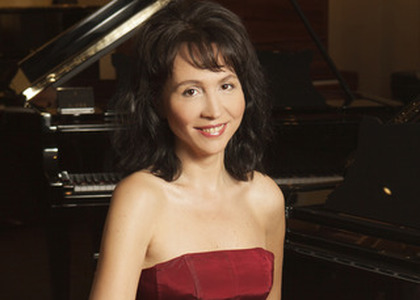 Interview with pianist Luiza Borac
Monday, 21 November 2022 , ora 9.49

Mrs. Luiza Borac, what does the ICMA Awards nomination mean to you?
This is the second time that a recording of George Enescu's concerto has been nominated in this very prestigious context. My interpretation of Enescu's concerto was nominated last year too, with the same orchestra but with a different conductor. This time it is a recording of two concertos for piano and orchestra, Enescu's concerto and Grieg's concerto with the National Radio Orchestra and conductor Nicolae Moldoveanu. I am particularly pleased that this momentous occasion puts George Enescu back in the international spotlight. Edvard Grieg is also mentioned here. As a Romanian-born pianist, I am truly happy for Enescu. He is a composer who is still not as well-known as he deserves to be.

What criteria did you take into account when compiling the disc "Grieg and Enescu. Concertos and solo piano works" disc?
This project was a sort of experiment that was born during the isolation period. A substantial part of this recording was done in 2019 with the National Radio Orchestra. We combined three different recordings: the first one, the studio recording, included the two concertos for piano and orchestra. The other two moments were equally important to me: a live recital in the Radio Bremen studio, and the third moment at the Monse Festival, held in Weissenau Abbey, also a live recital. From these we have selected moments that focused on these two important composers, Edvard Grieg and George Enescu, both of whom have something extraordinary in common, namely the use of the folklore of their countries, Norway and Romania, as a primary source of inspiration for their creation. This inspired me to combine these works by the two composers. Thus, this double disc was born, an album that has already been awarded five stars by Piano News and International Piano Magazine in London, and now, with great excitement, this nomination at the ICMA Awards.

How would you describe Edvard Grieg's lyrical pieces?
These are entirely special works. Like Enescu, Grieg was fascinated by the folklore of his country. He used old fairy tales and legends from Norwegian folklore and created these short works that evoke special, mysterious, fairy-tale worlds with great poetry. Personally, it even reminded me of Mozart's music who, with just a few sounds, was able to create some remarkable musical worlds. Grieg's music through this great inspiration, Norwegian folklore.

What do Enescu's Sontata No. 3 and the "Impromptues" Pieces mean to you?
There were two extremely important moments in the context of this album. In that recital, Radio Bremen focused on George Enescu's work in particular and chose this work. They had a special wish and I was very happy. Of course, a mature work, an extraordinary work and, with the acoustic conditions of the Radio Bremen studio, it had a great emotional impact for me. The recording was live. I had the privilege of working on all three recordings with exceptional sound engineers. Firstly, I would mention Andrei Cazan, National Radio Orchestra's sound engineer, Johann Schimdt, who is the creator of the entire Schubertiade Festival's archive.

Your album also includes Edvard Grieg's Concerto in A minor, which you recorded in collaboration with the National Radio Orchestra, conducted by Nicolae Moldoveanu. How would you describe your collaboration with the ensemble?
As usual, we had a very serious and highly professional collaboration, specific qualities of the National Radio Orchestra, and in this context we collaborated for the first time with Nicolae Moldoveanu. It was a very beautiful and harmonious collaboration, we shared the same artistic ideas and had the same enthusiastic and passionate spirit for this special music. For me, both concerts, recorded in collaboration with the National Radio Orchestra and Nicolae Moldoveanu, were ideal moments that happened in record time. We had the same spirit and made these recordings very quickly.
Interview by Ana Sireteanu
Translated by Raluca Ioana Crucerescu,
University of Bucharest, Faculty of Foreign Languages and Literatures, MTTLC, year I
Corrected by Silvia Petrescu